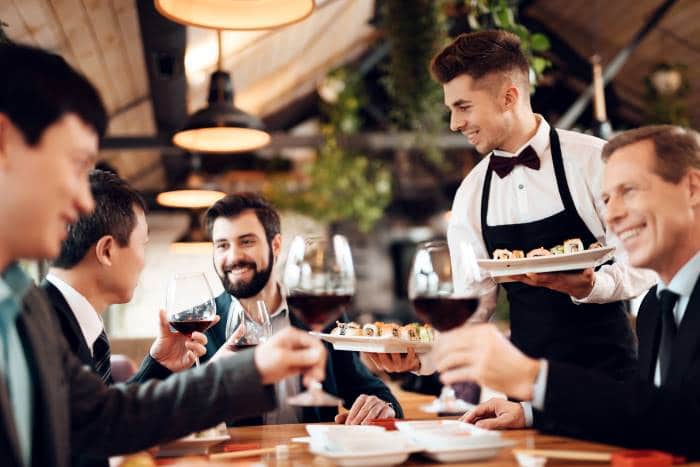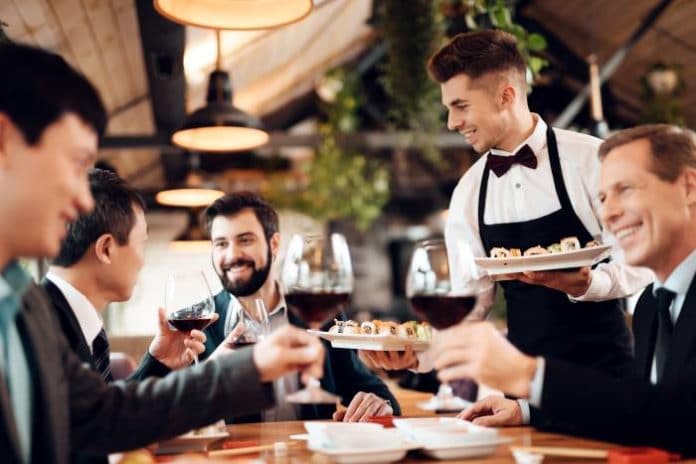 Fancy restaurants are great and all, but sometimes we just need a little privacy. When you think of privacy, you may instantly be imagining your own dining room or backyard and cooking dinner for your loved ones. However, that is about to change.
If you are looking for the best private dining room in Auckland then look no further. We have a variety of options to suit your needs whether it be for lunch, dinner or business meetings.They also have a gluten free option available.
1. White & Wong's Viaduct
Some people just can't get over how delicious street food can be. Taking inspiration from the colorful streets of China, Malaysia, Vietnam, Hong Kong, and Thailand, White & Wong's has a creative selection for a menu that everybody can enjoy. You can pick and choose your own dishes, as the options range from noodles and soups to curries and seafood. When you have such a diverse menu, it is quite easy to share it with a whole group of people. With the private function spaces provided by White & Wong's, you can easily plan an entire office lunch or a meetup with friends in their large area.
Best For: The Opium Den, or the private seating area of the restaurant. While you would expect private dining areas to be secluded at one end of the restaurant, the Opium Den is actually situated right at the center and offers you the best of both experiences. If you are one to prefer a more private space, you can opt for The Conservatory, which allows for a more cocktail style party.
Address: 149 Quay Street, Cnr Lower Hobson & Quay Street, Viaduct Harbor, Auckland
Opening Hours: Monday to Saturday – 11 pm to Late.
Contact Information: 09 379 6914
2. Dirty Laundry
Fine dining is great and all, but sometimes you just want a place to relax a little. The Dirty Laundry eatery is the perfect place for that. With a modern touch to some relaxed interior pieces, you can easily arrange a relaxed dinner with friends or a corporate lunch for clients here.
The selection of menu options at Dirty Laundry is a treat in itself. You can choose from some small or big portions, and even have the freedom to add appetizers and sides to your meal. If you are on the search for a fine dining place that is not too fancy to make your guests uncomfortable, Dirty Laundry at the heart of Auckland Central can be the optimal choice. To enjoy your private dinner, you can opt for the semi-private rooms offered by the restaurant.
Best For: Wine Selection. If you pay a visit to this iconic eatery, we suggest that you don't miss out on their beer and wine selection.
Address: 188 Quay Street, Auckland CBD
Opening Hours: Open 7 days a week, from 7 am to late night.
Contact Information: 09 951 0150
3. Harborside Ocean Bar & Grill
In case you are looking for a restaurant that is large in size, location, menu range, and pretty much everything else – we recommend paying a visit down to Harborside Ocean Bar & Grill. Being situated at the top of the famous Ferry building, dining at Harborside Ocean Bar & Grill means that you enjoy a view to the entire harbor, plus a few cruise ships that may be sailing around.
Harborside Ocean Bar & Grill has a regal dining area that gives you all the feelings of luxury. The interior has been specifically designed to cater to the fine dining experience with the white linen spread on tables, wall-length windows, hanging pendants down the walls, and even the most elegant bar that we had ever seen.
If you're looking to impress a loved one (or maybe pop the big question), we would highly recommend the Q Room at the Harborside Ocean Bar & Grill. The room is entirely secluded from the rush of the restaurant, and can be decorated according to your specific requirements. You can even customize your menu for this intimate dinner beforehand – which is especially helpful if you are expecting a large gathering on your celebratory night.
Best For: Private dining rooms – Q Room (small and intimate) and Harbor Deck (outdoor and for large gatherings).
Address: Ferry Building Level 1, Quay Street, Auckland.
Opening Hours: Open 7 days a week, 11:30 am onwards. Booking and reservations are recommended.
Contact Information: 09 307 0556
4. Onemata
If you're looking for the perfect combination between an exceptionally cooked meal and some privacy all to yourself whilst you are being served – we suggest you head down to Onemata. You can book their private rooms for an evening full of laughter with your friends, or signing off those business deals that you have kept on pending for the longest of times. You can have up to 10 guests in one private dining room at Onemata.
Best For: Menu Options. Since not everybody likes to pick and choose their own three-course meals due to the fear of not making the right choices, Onemata offers you a choice between three pre-set menus that each include appetizers, main courses, and a dessert dish for you to devour.
Address: 99 Halsey St, Auckland 1010, New Zealand
Opening Hours: Open 7 days a week.
Weekday Breakfast: 6.30am to 10.30am
Weekend Breakfast: 7.00am to 11.00am
Lunch: Sunday only 12.30pm to 3.00pm
Dinner: Monday to Saturday 5.30pm to 9.30pm
Contact Information: aimee.tuck@hyatt.com and +64 9366 2500.
5. The Matisse Room
If there is anybody in Auckland who knows how to make a private dining space feel special, it is certainly The Matisse Room. This restaurant is one of a kind – especially since they only cater to private bookings for intimate parties or large gatherings. Their event management team can transform the place into anything that you wish for. This makes The Matisse Room one of the best places to organize your special events, such as launch parties, meeting rooms, or even celebratory dinners.
Best For: Choosing your own chef. From their wide range of cuisines to try, you can choose a chef that cooks for your group specifically. You can customize your own menu and have the most exclusive culinary experience in Auckland.
Address: Seafarers Building, 52 Tyler Street, Auckland, New Zealand
Opening Hours: Open 7 days a week, from 11am to 12 midnight.
Contact Information: Call at +64 9 280 3789 or reach out to events@seafarers.co.nz for event bookings and reservations.
6. Botswana Butchery
Fine dining can mean wanting to devour a good piece of meat, right? Whether you are a meat fanatic or simply craving the best steak in all of Auckland, we suggest Botswana Butchery. Being a five-star restaurant, the quality and experience provided by Botswana Butchery is truly unmatched. The interior consists of a striking and well-decorated dining room that tends to give out all the feelings of luxury that you are looking for in a fine-dining experience.
The private dining room at Botswana Butchery is better known as Mezzanine – or the only place in Auckland that offers ocean views and some privacy all to yourself. The restaurant is cooperative enough to decorate the room according to the occasion being celebrated. You can even customize your own menu for the special night.
Best For: Wine and Steaks – the perfect combination for any kind of gathering.
Address: Ferry Building, 99 Quay Street, Auckland
Opening Hours: Open 7 days a week for lunch and dinner – 11:00 am till late night.
Contact Information: Call at +64 9 307 6966 or send an email at auckland@botswanabutchery.co.nz.
7. Non Solo Pizza
One can never go wrong with some authentic Italian cuisine. Mix that with a modernistic touch, courtyard seating, and the best of cocktails – and you have yourself the best way to enjoy a private night out with your closest group or friends. Even if you are looking to impress anybody, we suggest you take them to Non Solo Pizza, since there is nothing about their menu that did not leave us impressed.
The private dining area at Non Solo Pizza allows you complete privacy in your own little courtside room to relax and enjoy. The area is suitable for up to 30 guests – so plan your evenings accordingly.
Best For: Intimate dinners or big parties. The team at Non Solo Pizza not only knows how to serve the best Italian food in town alongside of some exquisite cocktails, but they also know a thing or two regarding arranging the perfect events. With the most suitable décor and interior options, you can arrange any kind of party at Non Solo Pizza.
Address: 259 Parnell Road, Parnell, Auckland
Opening Hours: Monday to Sunday – 11am to 10pm.
Contact Information: Send an email to nsp@nonsolopizza.co.nz or call at +64 09 379 5358 for enquiries or bookings and reservations.
8. Soul Bar and Bistro
If you have been in Auckland for quite some time now, you must have heard of the uber popular Soul Bar & Bistro. If you walk into the restaurant around midday, you are likely to find many people dressed in their formal suits and on corporate lunches. If you visit later during the day, you may just find groups of old friends catching up with some good food and cocktails.
To cater to more of the community in Auckland, Soul Bar and Bistro now have a private dining area at the exclusive cocktail lounge. You can have up to 30 guests around the long, elegant tables if you wish to enjoy the most delicious food prepared by the executive chef, Gavin Doyle. In case you only wish to have a standing cocktail party, you can invite up to 60 guests to the private dining area.
Best For: 2 Course Lunches and 3 Course Dinners. Depending upon the occasion, you can choose between two pre-set menus decided by the executive chef himself that allows you to enjoy the food without having to make any difficult decisions.
Address: Viaduct Harbour, Corner of Lower Hobson Street and Customs Street West, Auckland City
Opening Hours: Monday to Sunday, 11am till late.
Contact Information: To make a reservation, you can either call at + 64 (9) 356 7249
9. Huami
Authentic Chinese food paired with a private dining room of your own – what else can anybody wish for? The menu at Huami is truly to die for, especially due to their modern twist on the Chinese cuisine. As you enjoy your luxurious dining experience in Huami, there will be no denying that you may even just be in China yourself.
There are three private dining rooms available at Huami, each of which can seat up to 12 guests. In case you have a large gathering, you can choose to combine two or three rooms to cater to everybody on the guest list.
Best For: Exquisite Chinese cuisine paired with a luxurious fine dining experience.
Address: SkyCity 87 Federal Street, Auckland CBD
Opening Hours: Open 7 days a week in various slots.
Monday and Tuesday: 5:30 to 9:30 pm
Wednesday – Sunday: 11:30 am to 2:30 pm and 5:30 to 9:30 pm
Contact Information: For information regarding the restaurant or booking inquiries, please contact info@huami.co.nz.
10. The Sugar Club
The harbor at The Sugar Club gives you access to the best of views and the best of menus – all under one private seating experience. The team at Sugar Club works long and hard to ensure that each group of guests has a personalized experience at their restaurant.
Best For: Seasonal Menus. If you are looking for food that suits the weather outside, you can trust The Sugar Club to provide you with the best, intricately crafted menus that leave each guest eager to come back here.
Address: 72 Victoria Street West Level 53, Sky Tower, Auckland 1010
Opening Hours: Tuesday to Sunday, 4 – 10:30 pm.
Contact Information: Call at (09) 363 6365 or send an email to enquiries@thesugarclub.co.nz.
The Final Word
Now that you have your list of the best private dining rooms in all of Auckland, it is time to plan that romantic dinner or even a meetup with your old friends.
FAQ'S
1. What is the average cost to hire a private dining room in Auckland?
Each guest typically reserves a menu for 170 NZD in Auckland.
2. How many people can fit in a private dining room in Auckland?
In most cases, a private dining room can accommodate up to 24 people. A semi-private dining room typically reserves for groups of 10 to 14 people.
3. How do I book a private dining room in Auckland?
Booking a private dining room in Auckland is easy! All you have to do is find a venue that's right for you. Look for venues that provide the right amenities and vibe for your event, such as those located in close proximity to popular areas like Ponsonby Road and Britomart.
Once you've found the perfect spot, book it with confidence by checking out reviews or speaking to the venue directly about what requirements and options they offer. When you book a private dining room in Auckland, you can then arrange everything else – from food & beverage selection to music selection. Simple as that!
4. What are some tips for choosing a private dining room in Auckland?
When looking for the perfect private dining room in Auckland, there are a few tips that might make the task a bit easier.
1. Consider what type of experience you want to create. What kind of atmosphere would be ideal for the gathering? Will you need catering services or will your event be self-serving? What type of cuisine are you wanting to serve during your event? When checking out potential places to dine, consider their selection of wines and spirits, quality of the food, service style and size of guest capacity.
2. Make sure you inquire about any special events held at the venue that may interfere with your private dinner.
3. Always read reviews.
Once all this has been weighed out, it should help in narrowing down your options on finding the perfect place in Auckland!
Up Next: