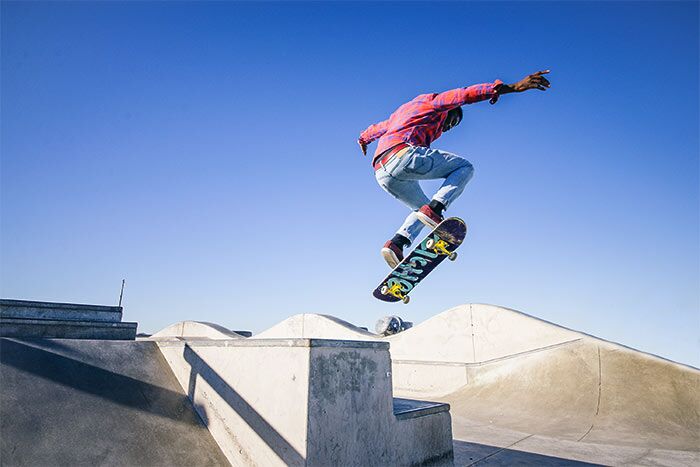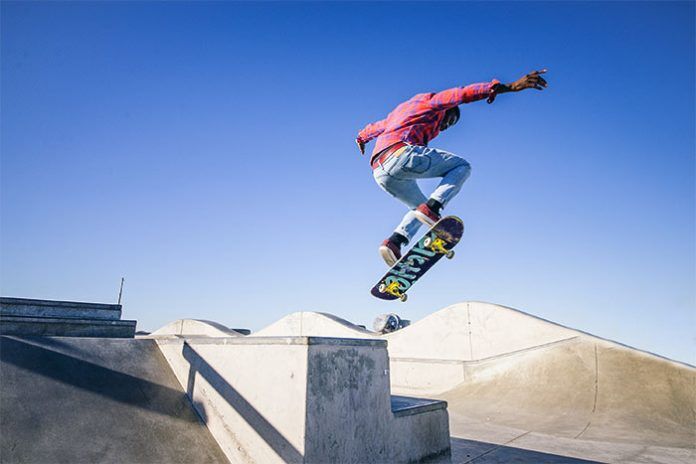 Are you looking to find the best skateparks in Auckland? Whether you prefer to skateboard, skate, scooter, or bmx, you'll be sure to find a suitable indoor or outdoor skate park in Auckland for your needs.
Read this curated guide and discover the very best Auckland skateparks to practice.
There is a vast variety of street skate spots to be found
Indoor Skateparks in Auckland
SonSk8
This Auckland indoor skatepark is the only one of its kind left in Auckland.
Sonsk8 Indoor skatepark NZ is located at Omaru Lane, Glen Innes 1072 Auckland, New Zealand
Cost:
1 hour use of skatepark: $6
3 hours skatepark use: $10
All day skatepark pass: $12
Skatepark hire: $150 per hour – minimum 2 hours
Outdoor Skateparks in Auckland
Marlborough Skatepark
Archers Road, Glenfield, Auckland 0627
One of the best skateparks in Auckland, which has it's downsides: it gets super busy! Make sure you either get there first thing or aim to get there just before sunrise. You'll often have the park to yourself on late afternoons or at around 6-7pm. Lots of space, various shapes to skate in/on, and a respectful attitude towards skaters of all abilities.
Valonia Skatepark
2 Valonia Street, New Windsor, Auckland 0600
Valonia Skatepark is another good choice for an afternoon skate. Valonia is well built but has limited street style obstacles. However, you'll find lots of good hips, and the transitions are decent geometries. Much like all good skateparks, it gets very busy, especially with small children, so head there late in the day when they've all gone home for dinner.
Waterview Skatepark
17 Waterbank Crescent, Waterview, Auckland 1026
Waterview Skatepark has plenty of open space and various elements to choose from. At Waterview Skatepark there's two areas: The Bowl and the street style area. There's different elements for different skill sets, perfect for beginners. It does lack some of the higher skilled elements, but there's also a pump track.
There's a distinct lack of shady areas, so if it's a real sunny day make sure to take protective clothing or sun lotion.
Read next: Best Water Parks in Auckland
Birkenhead Skateboard Park
21 John Court Street, Birkenhead, Auckland 0626
Birkenhead skatepark is one of our favorites for sure. There's a great balance between beginner and advanced obstacles, including low/high boxes, ramps ranging from mini to large, and bowls. Plenty of space between elements, allowing a nice free flow amongst users. There's also a water fountain and tons of parking spaces.

Orewa Skatepark
214D Hibiscus Coast Highway, Orewa, Auckland 0931
Awesome skatepark with heaps of elements for all ages. There's even a little café on site for a morning coffee, snack, or beverage. Good combination of mini ramp for beginners and more experienced skaters.
Skatepark – Forest Hill
253 Forrest Hill Road, Forrest Hill, Auckland 0620
Awesome spot, easy access and ideal for beginners to get started and for other skaters to practice.
Nixon Skatepark
Bond Street, Auckland 1021
Nice skatepark for learning ramp tricks and down grinds.
Victoria Park Skate Plaza
20 Beaumont Street, Auckland CBD, Auckland 1010
There's a ton of flat ground space to get in the groove, a lot of boxes and levels for street, and then tops off with a big bowl and a couple quarter pipes.
Browns Bay Skatepark
17 Manly Esplanade, Browns Bay, Auckland 0630
An all round skatepark located on the north shore close to the beach with some cool concrete ramps to try out and a park close by for kids that might enjoy the swings more.
Barry Curtis Skatepark
169 Ormiston Road, Flat Bush, Auckland 2016
Great skatepark with a lot of different obstacles and styles. Beautiful big open space, and a popular spot for skateboarding lovers.
Owairaka Skatepark
Owairaka Avenue, Mount Albert, Auckland 1025
Very nice park and skatepark. It's clean and safe, with paths for little ones to ride and play. Has a real community feel and suitable for all ages who go there for a walk or just some fun.
Jack Pringle Skatepark
Te Atatu Peninsula, Auckland 0610
The Jack Pringle Skatepark has a 5 foot high mini ramp with flyout quarter to quarter pipe transfer into the existing skatepark. A Levi Hawken Concrete Motif installed across the walls of the mini ramp brings Street Art into the Environment. The arrangement of the new Mini ramp allows it to be redeveloped into a flow bowl setup in the future.
Lincoln Rd Skatepark
199 Lincoln Road, Henderson, Auckland 0610
This one has a wide variety of ramps and an awesome bowl. Good place to take the little ones with bikes and scooters.
Riversdale Rd Skateboard park
Avondale, Auckland 1026
Whether you prefer a scooter or board, this is a great playground to take the kids.
Crossfield Skatepark
Crossfield Road, Glendowie, Auckland 1071
Neat park and playground with a half bowl, some drop-ins, jump boxes, and plenty of grind rails.
Read also: Cheap parking in Auckland