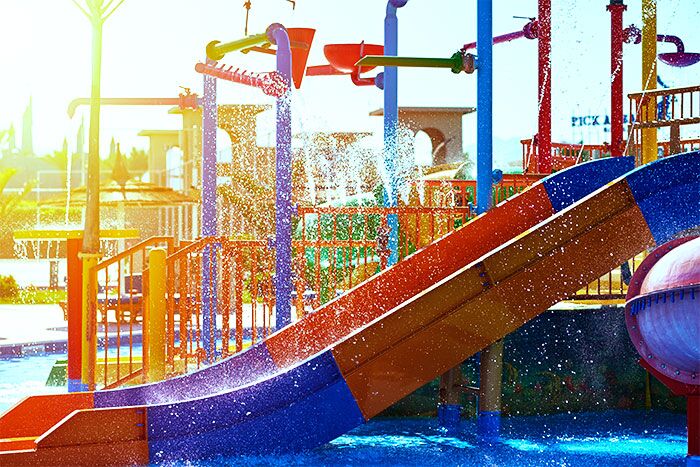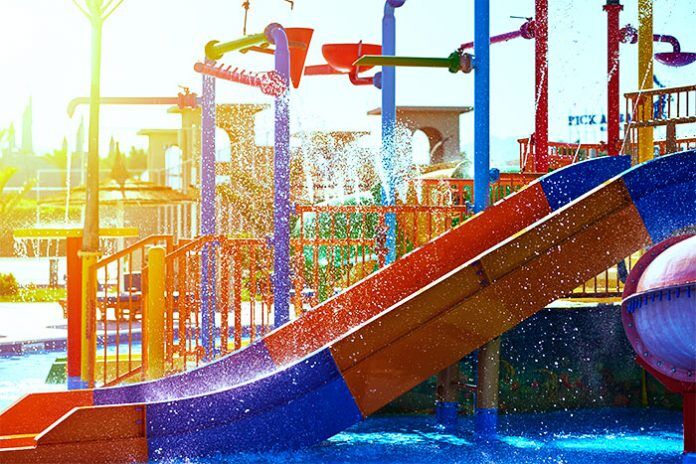 Nothing says 'holiday' quite like sunshine, ice cream, and sliding down some massive water slides. From peaceful raft rides to plunges down the world's deepest manmade waterfall, you can experience it all in New Zealand's most populous city. Located throughout Auckland, these parks are perfect for both kids and adults alike.
In this guide, we'll go over five of the best water parks in Auckland so you can get the most out of your next vacation. Keep reading to find the perfect spot for you!
Top Auckland Water Parks
Fun, popular, and totally awesome, these water parks earn a spot on anyone's itinerary:
1. Potters Park
Potters Park is one of the top locations for children anywhere in Auckland. This kid-friendly park offers incredible child-themed activities, including a playground area that features sprinklers, fountains, mists, and tip buckets. All combined, this makes Potters Park, open from September to May every year, one of the top family parks in the area.
Enjoy the splash pads and take gorgeous family pictures in front of towering palm trees at this iconic Auckland location!
2. Waterview Reserve Splash Pad
Have older kids? Waterview Reserve Splash Pad is perfect for you! With activities designed for kids of all ages, everyone in your family can enjoy the incredible fun at this great location. The park is complete with a playground, kids splash pad, and a comprehensive water play area that never disappoints.
What all can you expect at Waterview Reserve? You may be surprised. The water play area is replete with slides and other rides that are truly second to none in the area. If you're ready for a break, however, you can head to the playground to skate or even ride a BMX track. The play area itself boasts bridges, a spiral tower, swings, a superslide, tunnels, climbing nets, and more for ultimate fun. There's even a basketball court! Be sure to check out waterview water park Auckland for ultimate fun.
See also: Best Parks in Auckland City
3. Myers Park
Looking for a quiet spot to take the family? Make Myers Park your go-to spot! Complete with a splash pad and a nearby playground area, this waterpark for children is the perfect place to spend a day with little kids. What makes this location unique is its history and retro splash pad, which was originally a paddling pool and still boasts aesthetic traces of yesteryear.
Myers Park is open every year from September to May. Make sure to stop by to enjoy family water park fun in a peaceful, safe environment!
4. Grey Lynn Paddling Pool
Worried that no water park is accessible to your small toddler? Enter Grey Lynn Paddling Pool, a shallow pool that's monitored by round-the-clock lifeguards for extra security. At Grey Lynn, you never have to worry about your kids leaving the shallow end of the pool.
The best part? This pool is free to use and is open constantly from December to March. Swing by for a bit of fun with the little ones—and don't be surprised if you spend hours at the peaceful location! Make sure to hit up the play area near the pool to get the most out of your vacay.
5. Vector Wero White Water Park
| | |
| --- | --- |
| Best for | Thrilling Water Fun |
| Services | Rafting, Kayaking |
| Operating Hours | October-May, 7 days a week, starting at 9AM June-September, Wednesday-Sunday, starting at 9AM |
| Address | 770 Great South Road, Wiri, Auckland 2104 |
| Phone Number | +64 9-913 5251 |
How does taking a dive down the world's largest manmade waterfall sound? You don't need to answer that. Perfect for teens and adults, Vector Wero White Water Park is sure to make more than a splash your next vacation. The location offers incredible kayaking and rafting down a thrilling, fast-paced river, culminating in that one-of-a-kind waterfall drop you don't want to miss.
Vector Wero White Water Park also offers an epic lake experience. Get on the water at the location's 9,000 square meter manmade lake. Paddle board, kayak, or simply float while soaking up the beautiful rays of the sun.
Read next: 14 Great Things to do with Toddlers in Auckland
6. Toia Otahuhu Recreation Centre
Take things down a level at the popular Toia Otahuhu Recreation Centre, an outdoor splashpad that will have you and the kids living it up in more ways than one. This community facility is open to the public and features swimming pools for older children, as well.
But that's not the end of it. More than a simple water park, Toia Otahuhu Recreation Centre provides fun in a variety of avenues: picnic areas, libraries, indoor basketball courts, training facilities, and even a café await for the ultimate in family-friendly fun.
The Bottom Line
See something you like? This guide of the best water parks in Auckland truly has something for everyone! From peaceful, kid-friendly Potters Park to the heart-pumping Vector Wero White Water Park, this guide gives you the ultimate in variety if you're looking for a top splash vacation in Auckland. Make sure to use this piece as your ultimate reference to get the most out of your upcoming vacation.
You won't be disappointed!