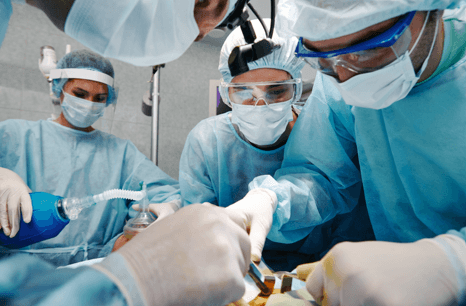 Believe it or not, but hernias are actually quite a common problem. They occur when there's a hole or weakness in the muscular wall that keeps all the abdominal organs in place. If there is damage in the muscular wall, it allows organs and tissue to herniate, or in other words, push through, which causes the appearance of a bulge.
This bulge or lump is often more visible if a person is standing up, and it can seemingly disappear when the person lies down. Abdominal issues and pains are the more common symptoms of a troublesome hernia. However, the hernia can also be present without any irritating symptoms.
It's a condition that is easy to diagnose, and it's treated by either open or laparoscopic surgery. There are a few types of hernias; inguinal (which is more common in either childhood or at old age), femoral, umbilical, hiatal, and incisional.
If this is something that's been bothering you, worry not. Here, we are going to go over some of the greatest hernia surgeons in Auckland.
HPB Surgery, Mr. Adam Bartlett
Address:
Laparoscopy Auckland
148 Gillies Avenue
Epsom, Auckland 1023
Website: https://www.hpbsurgery.co.nz/
(09) 623 4789
Email:
info@hpbsurgery.co.nz
Working hours:
N/A
Services:
Laparoscopic surgery, transplant surgery
Mr. Adam Bartlett is known for providing first class surgical care, with a subspeciality training in liver, pancreas, biliary, laparoscopic and transplant surgery. He has a rich portfolio of experience, as well as medical knowledge.
He has worked all around the globe and is passionate about providing phenomenal surgical care for patients in need of his skills. Mr. Adam Bartlett has spent time in The National Children's Hospital in Tokyo, Japan, the Centre Hépato-Billiaire Paul-Brousse in Paris, the Leuven Hospital in Belgium, and the Mayo Clinic in Rochester, Minnesota. He is available at both a private and public practice in Auckland.
Due to his substantial knowledge of different surgical techniques, he is great at solving any hernia issues that you might have.
David Moss Surgery, Mr. David Moss
Address:
125 Ormiston Road
Auckland 2016
Website:
https://www.davidmosssurgery.co.nz/
Phone number:
021 110 4058
Email:
dmoss.pa@gmail.com
Working hours:
Mon – Fri 9AM – 5:30PM
Services:
Open hernia repair, laparoscopic hernia repair, varicose vein surgery, laparoscopic surgery, breast cancer surgery
Mr. David Moss is a surgical expert, based in Auckland. He is dedicated to providing reliable expertise to every client he comes in contact with. He is known for his professional, yet friendly attitude towards his patients. He does it all: from diagnosis, management, surgery to after-surgical care.
In Auckland, he is known for his proven expertise and his extensive reputation. Apart from being one of the finest breast cancer surgeons, he is also well known for effective hernia repair. No matter if their open surgery or laparoscopic hernia repair. Mr. David Moss works at Middlemore Hospital and in private practice.
He has lots of experience in the emergency medical unit (where he's still active) meaning that he has extensive experience with both unusual and common conditions that require surgical attention. As one of the senior surgeons in New Zealand's busiest emergency surgical unit, he has treated large numbers of patients with both common and unusual general surgical conditions.
Mr. David Moss, apart from being an excellent hernia surgeon, is the Lead Surgeon for the Counties Manukau Breast Screening Programme as well as the Chair of the Surgeons group of Breast Screen Aotearoa.
Windsor Surgery, Mr. John A. Windsor
Address:
Entrance C or D Mercy Specialist Centre,
100 Mountain Rd,
Epsom, Auckland
Website:
https://www.windsorsurgery.co.nz/
Phone number:
09 623 7126
021 901 930
Email:
https://www.windsorsurgery.co.nz/ask-me/
Working hours:
N/A
Services:
Open hernia repair, laparoscopic hernia repair, laparoscopic surgery
Professor John Windsor has a vast history of medical education and training. He is a general surgeon, but that's not where his story ends. He has had further fellowship training in hepato-biliary and pancreatic, gastro-oesophageal and laparoscopic surgery. Currently, he works at Mercy Hospital, where he takes on a multitude of surgery cases.
The types of operations that he is the most well known for are laparoscopic cholecystectomy (for gallstones), various hernia repairs, laparoscopic fundoplication (for hiatus hernia and reflux disease) and myotomy (for achalasia), laparoscopic splenectomy, pancreatic resections (for cancer) and decompression (chronic pancreatitis), and resection of stomach and oesophagus (for cancer).
Mr. John Windsor also has a few awards: gold medal for outstanding service, given by the Royal Australasian College of Surgeons, as well as the Panir Chelvam Memorial Lecturer, which was given by the Malaysian Society of Gastroenterology and Hepatology.
Nova Medical, Mr. John Dunn
Address:
PO Box 2024
Shortland Street
Auckland, 1140
New Zealand
Website:
https://www.novamedical.co.nz/
Phone number:
0800 668 263
Email:
enquiries@novamedical.co.nz
Working hours:
Every day 9AM – 5PM
Services:
Laparoscopic surgery, laparoscopic hernia repair, gastroscopy, colonoscopy
He has worked for internationally renowned hospitals in both Australia and New Zealand. His position in Australia required a large volume of flexible endoscopy. This means that he was already greatly experienced and educated when he was introduced to laparoscopic surgery in 1989-1990.
He returned from Australia in 1991, and established one of the world's largest single surgeon series in laparoscopic cholecystectomy and, more recently, laparoscopic anti-reflux surgery, laparoscopic inguinal hernia surgery and laparoscopic obesity surgery.
All of this means that he can easily handle a hernia repair, without even breaking a sweat. Besides Mr. John Dunn's clinical work, he is also the Founder-Director of both Endoscopy Auckland & Laparoscopy Auckland. If you're looking to get rid of your hernia per laparoscopic repair, Mr. John is definitely a person you should contact. He will provide a premium service, as well as premium care.
Laparoscopic Surgeon, Mr Andrew Bowker
Address:
148 Gillies Avenue, Epsom, Auckland 1023, New Zealand
Website:
main
Phone number:
(09) 630-0223
Email:
andrewbowker@laparoscopyauckland.co.nz
andrewbowker52@gmail.com
Working hours:
Monday at 0700hrs or Tuesday 0700hrs (alternating weeks) until Friday at 1700hrs
Services:
Laparoscopic hernia Surgery, gallbladder Procedures, non-surgical hernia management,
Mr. Andrew Bowker has been involved in general surgical laparoscopy ever since becoming a consultant surgeon in Queensland. His early experience with cholecystectomy led to pioneering work with herniorrhaphy and anti-reflux surgery. He is well known for being one of the people who have accrued the largest hernia series in Australasia and has been responsible for training many of his New Zealand colleagues in this procedure.

If you are looking for a true expert in the field of hernia repair, Mr. Andrew is your man. In the recent year, he managed to introduce single incision laparoscopic cholecystectomy to New Zealand. In the medical field, it is known that this provides some cosmetic advantages over the standard 4 incision technique.
Internationally, he is known as an expert in his field. Interestingly enough, even though he is trained as a general surgeon, he will now rarely accept procedures that are traditionally associated with general surgery. Laparoscopic surgery is where he feels the best and is the best at; meaning that if you are looking for laparoscopic repair, feel free to give his clinic a call.
Conclusion
Dealing with a hernia can be incredibly annoying and uncomfortable. The longer you wait to get it repaired, the longer that you'll endure those unpleasant symptoms. It's always good to get a true hernia expert to look at your case, or in other words, your symptoms to determine what the best "healing route" for you would be.
Check out some of the amazing hernia surgeons that we recommended, and feel free to share your personal experience about hernia surgeons in Auckland.