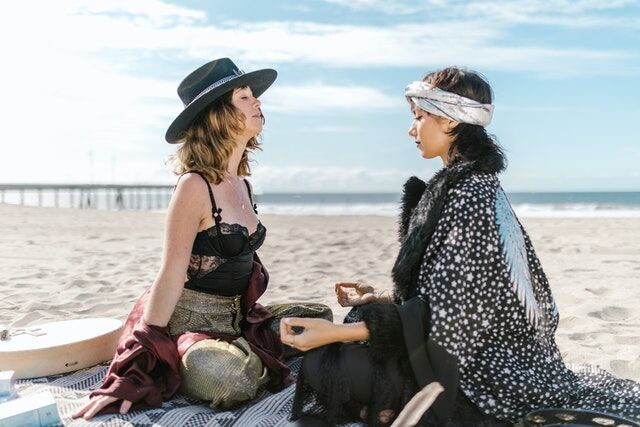 Astrology is an ancient science that utilizes the positions of the stars and planets to make predictions about people and events. People who practice astrology are known as astrologers.
One of the most popular practices is looking at the positions of celestial bodies at the time a person was born to predict aspects of their personality and even provide answers about who they should marry or what type of job they should have.
Find a Famous Astrologer in Auckland
If you want to find the best astrologer in Auckland, you've come to the right place! Whether you're just looking for a birth chart reading, have questions about health problems or relationship issues, or you're interested in Vedic astrology, this list has some of the top astrologers in Auckland.
Whether you're just into astrology for entertainment purposes or you genuinely believe that astrology can provide the answers you're seeking, these astrologers in Auckland will be able to give you the advice you seek.
Ravinder Grover
About
Ravinder Grover is a professional Vedic astrologer who also has experience with Western astrology, tarot, palmistry, numerology, and a variety of other metaphysical and occult practices. He uses astrology as a practical tool that allows him to offer guidance to others. He answers questions related to health, career, finances, family, love, marriage, and more!
Services
Ravinder Grover uses astrology to answer a wide variety of questions you might have. Examples of his services and questions he answers include:
astrological chart analysis
business problems
education
karmic astrology
pregnancy and children
love, relationships, and marriage
foreign travel
spiritual life
What Customers Say
I have had a few astrological readings from Ravinder Grover. The readings have been life changing! The accuracy of the readings always leave me amazed and give me so much insight into my life and any difficulties I may be facing.
-Krishneel C.
Contact
Website: https://ravindergrover.com/
Phone: 21 774 724
Email: info@ravindergrover.com
Address: 5A Kingsway Avenue, Sandringham, Auckland 1025
Astrologer Durgamatha
About
Astrologer Durgamatha is an Indian astrologer in Auckland that knows all types of astrology and utilizes that knowledge to resolve all kinds of issues. He answers questions related to career problems, love and marriage, and can even help undercover secret problems you may be facing. He has helped thousands of clients to have happier lives. He considers astrology to be a remedy to many of life's issues, and he also uses a variety of other techniques depending on individual needs.
Services
get love back
love and marriage
health problems
horoscope reading
childless couples
divorce problems
palm reading and face reading
relationship problems
business problems
What Customers Say
Awesome. I found everything that Astrologer Durgamatha said to be fabulous.
-Tara
Contact
Website: https://durgamathaastrology.com/
Phone: 404 797 801
Email: durgamathaastrologer4@gmail.com
Lana Raill Tarot and Astrology Readings
About
Lana has over 20 years of experience working with astrology, tarot, and other metaphysical practices. She has diplomas in Medical Herbalism, Naturopathy, and Tarot. She is a top astrologer and healing practitioner who is passionate about helping her clients understand themselves and become the best versions of who they are. She does in-person consultations, as well as online ones over Skype or Facebook video chat.
Lana works with individual birth charts to get the information they need. She helps her clients to understand the energies that are at play in their birth charts so that they can use these energies to their advantage. She can answer specific questions, look at transits, and help find your inner strengths using astrology.
In addition to astrological readings, Lana can do a psychic reading using tarot, provide flower essence remedies, and perform esoteric hypnotherapy.
Services
clairvoyant tarot reading
astrology reading
combination tarot and astrology reading
hypnotherapy
flower essence consultation
What Customers Say
I have thoroughly enjoyed and benefitted from working with Lana.
During her readings, I have felt very seen and understood by her and thus gained clarity and support from what I was seeking help with which resulted in either peace and/or resolution.
-Schirin
Contact
Website: https://www.lanaraill.com/
Phone: 210 246 8952
Astral Hippie Astrology
About
Astral Hippie Astrology is run by Liezl James. She is a traditional Western astrologer who studied with Rod Suskin, a world-famous astrologer. She also has training from the Deborah Houlding School of Traditional Astrology and frequently attends workshops and conferences to increase her astrological knowledge.
Liezl is the best astrologer to go to if you want a birth chart reading for you or your child. She also does synastry readings and horary readings.
Services
quick birth chart reading
full birth chart consultation
birth chart prediction
pinkie promises (newborn birth chart)
horary readings
synastry consultation
What Customers Say
Liezl @ Astral Hippie Astrology is amaaaaazing! She helped me understand my birth chart, something I never got my head around, and she made the experience fun and easy.
-Gabriela M.
Contact
Website: https://www.astralhippie.com/
Phone: 21 915 930
Email: liezl@astralhippie.com
Address: Great South Road, Karaka 2580, New Zealand
Radiant Wellness Healing Room- Soul Journey Astrology
About
Radiant Wellness Healing Room offers astrology and reiki services. Soul Journey Astrology with Sherryll Gates is the way to go if you have questions about yourself and what's happening in your life, your relationship, money, travel, relocating, and more!
Sherryll is a renowned astrologer who believes that astrology awakens our connection with our planet, as well as the cosmos. She is a great astrologer who uses astrology to offer clarity, answers about the future, and to help people gain a better understanding of themselves.
Services
comprehensive birth chart
1-hour recorded sessions
family/group patterns
lunar cycle fertility reports
zodiac child report
relationship reports
solar return reports
reiki and other services are also offered through Radiant Wellness Healing Room
What Customers Say
Sherryll Gates provides intelligent, intuitive and incredibly useful astrological consultations that I weave into planning my business and life. Her knowledge of astrology and ability to translate that into practical guidance is invaluable.
–Stacey D.
Contact
Website: https://sites.google.com/view/souljourneyastrology/home
Phone: 27 280 3414
Address: 90b Lincoln Park Ave, Massey, West Auckland