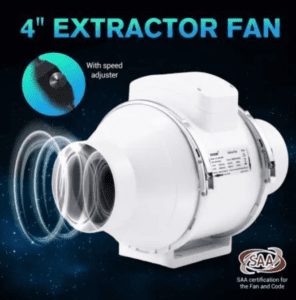 Overall rating – 5 out of 5
Specifications:
Material: Stainless Steel
Size: 100mm (4 in.)
Colour: White
Voltage: 220V-240V
Frequency: 50Hz
Power: 26W (high)/23W (low)
Speed:2350rpm
Air Flow: 322m³/h
Air Pressure: 156Pa
Noise Level: <30dB
Max Ambient Temp.: 40°C/104°F
Waterproof: IP44
Certification: CE, SAA
Lifespan: 50000 hours
Item Size: 302x208x188mm
Description:
This exhaust fan is perfect for rooms with high humidity or smoke, like bathrooms and kitchens. It has a balanced motor with a permanently lubricated ball bearing and backward curved impeller, ensuring quiet and vibration-free operation.
Whether for your home or business, this airflow exhaust fan helps create and maintain a healthy and comfortable environment. Compared to other inline extractor fans, this ventilation fan uses just 26W of power to achieve the same effect, saving you money on electricity.
Dial the stepless variable speed controller to suit your needs. High performance combined with static pressure can reduce resistance in long ducting. It's easy to install and can be used in most settings, such as bathrooms, kitchens, bedrooms, offices, cafes, and bars.
Pros:
High performance and static pressure to overcome the resistance caused by long ducting
Backward curved impeller to ensure a quieter operation
Moisture resistant, great for use in a damp environment.
Extended collar and lip for easy duct installation
1 year amnufacturer's warranty
Cons:
It is not waterproof

Noisy