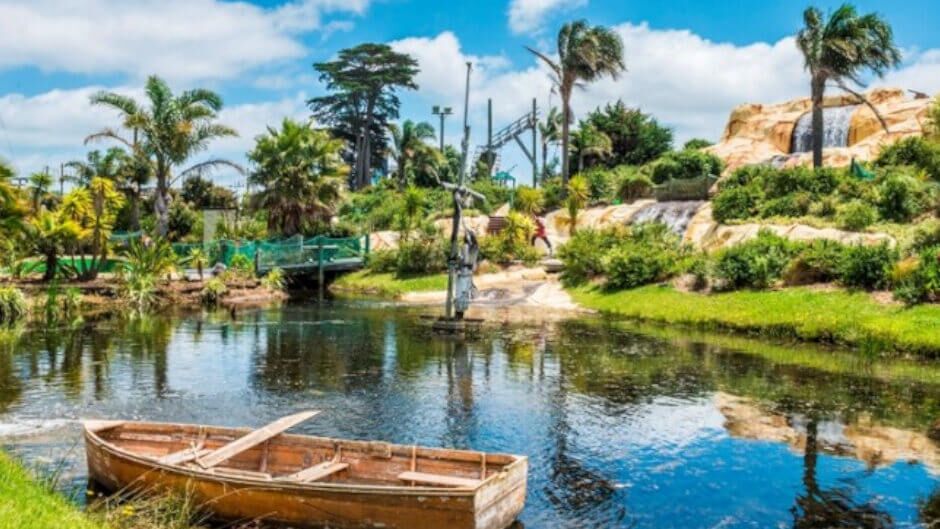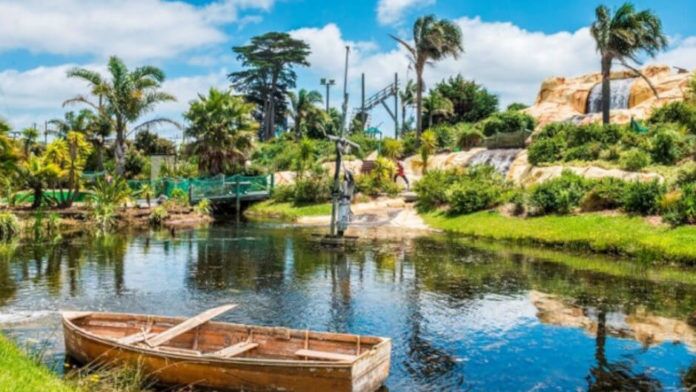 Auckland is home to many tourist attractions, and the best one on the scene is Treasure Island Mini Golf.
Located at Auckland Airport, this 18-hole mini golf course is set on a pirate-themed island and provides hours of family fun. It's perfect for all ages, and there's even a special area for toddlers.
---
A classic and a must-do! Discover Treasure Island, an adventure golf course themed in the style of pirates with pirate ships, cascading waterfalls, haunted caves, and shark-infested waters. This course is sure to please the whole family.
Here Is Where You Can Get Tickets!
Features
✅ Awesome pirate-themed adventure golf course
✅ Fun family entertainment for all ages
✅ Auckland's largest adventure golf course
✅ Two 18 hole courses – Blackbeard's & Captain's
Book Your Golfing Experience Here!
---
Take on waterfalls, crocodiles, sharks, and eels as you putt, club, and drive your way over them! Treasure Island offers two 18-hole courses. There is plenty of fun to be had on the courses and they are a great day out for the whole family or to make your first date a little more exciting. It is perfect for parties, corporate events, sports teams, youth groups, families, and friends during the summer.
Putt through haunted treasure caves, over life-size pirate ships, past majestic waterfalls and past shark-infested waters on this beautifully landscaped course.
Family adventure entertainment at its finest: high fun for adults and kids, low risk, and minimal skills required.
Booking Is Now Available Here!
Frequently Asked Questions
Is everyone provided with a ball and club?
Each player gets a ball and a club. Kids and adults get clubs with different lengths.
If it rains, are they open? Is it undercover?
Yes, they are open when it rains. The course may be closed in severe weather. If it is stormy, it is best to call in advance. They are not under cover, so bring your raincoats!
Is mini-golf suitable for children of what age? Can my infant play? Can the elderly play?
Mini-golf is best suited for ages 3+, although younger toddlers are welcome. You may not, however, want to include their scores on the scoreboard! It is important to be aware that the courses have water features, bricks, rocks, and other hazards. Treasure Island's courses do not have steep hills or unstable ground, so even those with mobility problems and the elderly can walk easily.
Do the courses allow pushchairs and wheelchairs?
Only the Caption course does.
Are you allowed to bring our own food and drink?
Of course you can, just make sure you use the bins provided and clean up after yourself.
How long does a round of golf last (approximately)?
One course takes approximately 30 minutes – 45 minutes to complete. Depending on how busy it is and how fast you or your group are, it could take more or less time.
---
Extra information and facilities:
Toilets
The Captain's course is wheelchair and pushchair accessible
Free parking
Ice cream and cold drinks are available for purchase
On request, BBQs are available
There are three function areas for birthday parties, family get-togethers, corporate functions, and hen and stag parties
Opening Hours: (weather permitting)
From December to February
Monday – Saturday: 9am to 9pm
Sunday: 9am to 9pm 8.30pm LAST ENTRY
From March to April
Monday to Wednesday – 9am to 5pm
Thursday to Saturday – 9am to 9pm
Sunday: 9am to 7pm
From May – November
Monday – Thursday: 9am to 5pm
Friday – Saturday: 9am to 9pm
Sunday 9am to 6pm
Also Check Out: