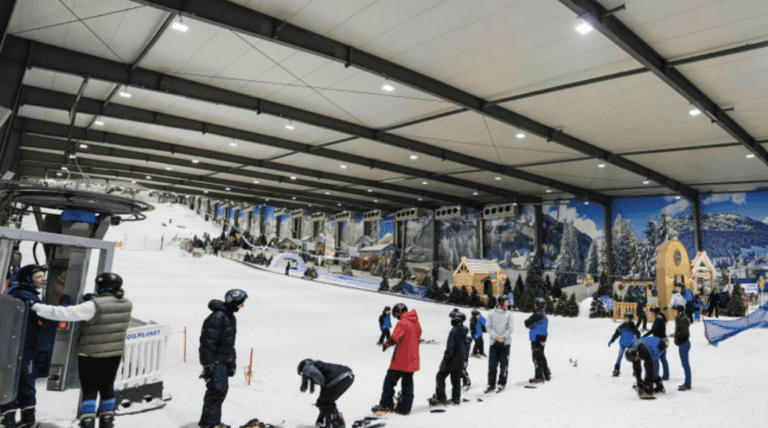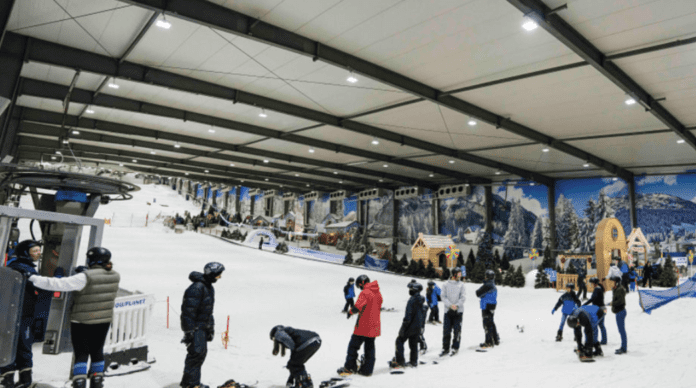 New Zealand's only all-year-round indoor snow resort, Snowplanet combines snow sports excitement with a village atmosphere.
Just 30 minutes from Auckland City, Snowplanet is decked out with 50 centimetres of snow and perfect conditions 365 days a year!
Inside the snowdome is an impressive 200- metre slope that is kitted out with a variety of jumps, rails, and jib features. There is even a beginners slope for those who are starting out and are not ready to go on the top.
---
Snowplanet is the place to be…
Here are some things to do:
Skiing and Snowboarding: The snow dome usually has a temperature of -5 degrees Celsius. You should wear warm clothing. Snowplanet offers rentals and sales of these items.
Winter Wonderland: You can explore a family-friendly, snow-capped alpine village with fun activities at Winter Wonderland. Besides the ski slopes and snowboard areas, there is a snow tubing track for longer, faster tubing rides, a tobogganing hill, and plenty of play space for both kids and adults to enjoy.
There is a chilly -5 degrees in Winter Wonderland. Dress warmly, wear gloves, a beanie, and waterproof boots.
If you do not have your own boots, gloves, jackets or pants, you can rent them.
Click Here To Book Family Winter Wonderland & Snow Tubing
Lessons:
Private & Group
First timer lesson
Private lesson
Next step progression lesson
Mini chilly lesson
After School Programs
Rippers 'n' Riders
School holiday program
Athlete Training Programs
Ski racing program
Ladies ski
Freestyle snowboard
Freestyle ski
Race camps
---
Groups activities and menus at Snowplanet:
Team activities
Group menus
Functions & parties
Schools and pre schools
Restaurant:
Dine in a cosy chalet setting at 7 Summits Restaurant. The restaurant features floor-to-ceiling windows that overlook the largest indoor ski field in the Southern Hemisphere. An open fireplace adds to the alpine ambience. You can't find anything like this on the North Shore.
You can relax however you like. Sip on your favourite beverage and enjoy a hot snack. Make an evening of it by having dinner with friends and family.
Functions and special occasions are also perfect at 7 Summits. Let the friendly staff know what you need.
---
Frequently Asked Questions
What can you do in Snowplanet?
The only indoor snow park in New Zealand, Snowplanet allows you to enjoy the snow 365 days a year. Skiing, snowboarding, snowtubing, and games are all possible on over 8,000 square metres of real snow. There is a relaxing restaurant with a view of the snow, where you can refuel and relax.
What do you wear to Snowplanet?
You should wear gloves, a beanie, and waterproof boots. If you do not have your own jacket, pants, gloves, and boots, you can hire them.
How cold is it in Snowplanet Auckland?
On average, the temperature inside the snow dome is around -5oC. You should dress warmly. Snowplanet has them for hire if you don't own any.
Where is Snowplanet?
📍 91 Small Road, Silverdale, Auckland
Who owns Snowplanet?
Snowplanet limited is owned by Jolyon Rupert Ralston, John Richard Avery, Christian Dunnwald, Eduard Ebbinge, Henry Alexander Bryan Tait, Duncan Donald Charles Smith, William Robert George Sellar, and John Roberts.
What are Snowplanets' opening hours?
Mon, Tues, Thurs: 12:00pm – 9:00pm
Wed: 12:00pm – 4:00pm
Fri: 10:00am – Midnight
Sat – Sun: 10:00am – 10:00pm
Is there a restaurant at Snowplanet?
Yes. The 7 Summits Restaurant is set in a cosy log cabin-style chalet with floor-to-ceiling windows giving panoramic views of the largest indoor ski area in the Southern Hemisphere. Sit back and relax. Stop by for your favourite beverage and a snack. Make an evening out of it by enjoying a meal with friends and family.
How much does Snowplanet cost?
Standard (full value) pricing : Adult $53, Child $40 (under 17 years)
Do you need to wear a helmet?
The Snow Dome requires all skiers and snowboarders to wear helmets. If you do not have a helmet, you must hire one for $6.
Which is the smallest boot size and what is the youngest age that can go in the snow?
Snowplanet does not specify what age is the youngest that kids are allowed to experience and feel the snow. While it is at the parent's discretion, they recommend that you do not take children under age 2 onto the snow or infants who cannot walk.
Skiing and snowboarding do not have a minimum age requirement. The smallest ski boots are children's sizes 10 and the smallest snowboard boots are size 11. For Snowplay, kids' snow boots start at size 3.
Does Snowplanet have lockers and changing rooms available?
Lockers are available in the Rentals area for $4 for 12 hours. The Rentals department has changing rooms.