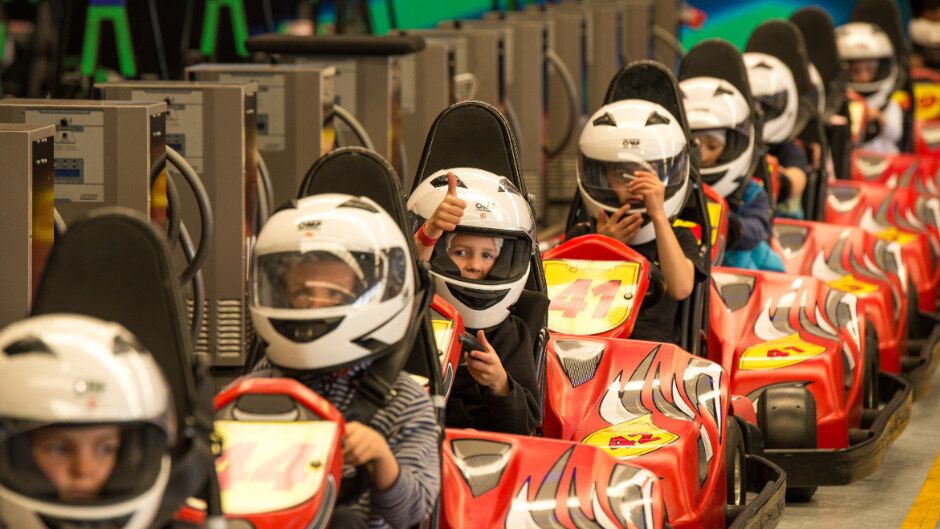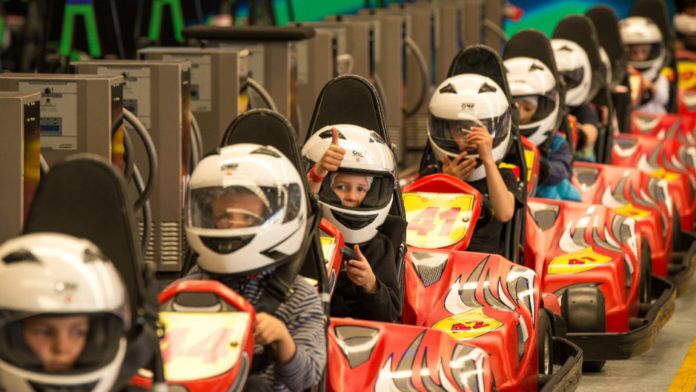 Game Over Auckland offers a top of the line electric kart racing experience to your family and friends!
Features:
✅ The experience of indoor karting at Game Over is one of the most exciting there is
✅ Every electric kart has been built to the highest standards
✅ Enjoy reduced environmental impact, superior performance, and no exhaust fumes
✅ All skill levels are welcome – from beginners to advanced
✅ Experiencing indoor karting has never been safer or more exciting!
---
Purchase Game Over Tickets here
Do you love racing around a track and spending time with your friends?
Then you'll love Game Over Auckland. There is no better place for fast, furious, and fully adrenalized four-wheeled thrills than Game Over Indoor Go Karting.
They have all the best activities under one roof, and they're open late so you can play as long as you want. Book up today and see for yourself!
They have Go-Karts, Laser Tag, Themed Mini Putt, and Arcade all under one roof. So whether you're young or old, there's something for everyone at Game Over Auckland. And they're always updating their selection of games, so there's always something new to try out.
The speed of each kart can be adjusted to suit the different levels and ages – so younger and less experienced drivers are able to have fun, too!
The laser tag arena features the latest laser technology for an action-packed laser battle. To beat this game, you'll need to zap and avoid your opponents and interactive targets!
Mini-golf provides prehistoric fun to the whole family on the 12-hole Jurassic themed mini-golf course!
Are you ready to get started? Visit Auckland's best indoor entertainment venue today!
---
Auckland's Top Go Karting Track is Game Over
The most exhilarating karting experience you can have is at Game Over
Experience first-hand the unmatched torque and power of one of Game Over's electric karts! Electric Go Karts are heaps of fun. Taking a fast lap on their 200m track requires smooth steering, throttle, and brake control.
Indoor Formula E-Karts, Mini Putt, Laser Tag Combo Options
Adults: Each race lasts about 10 minutes and has up to 15 laps. Participants must be at least 13 years old and 140 cm tall
Juniors: Each race lasts approximately 10 minutes and consists of up to 10 laps. Must be at least 7 years old and 120cm tall
Group/ family go karting: 4 x people go for a go kart race
Go karting + laser tag or mini putt combo: 15 laps for adults and 10 laps for juniors. Included is one laser tag game or one mini putt game.
Family pass go karting + laser tag + mini putt combo: 2 people for go kart race (adult x 15 lap race or junior x 10 lap race) 4 x mini putt, 4 x laser tag missions
---
Arcade Games Galore…
There are more arcade games than you can imagine at Game Over Auckland! It is sure to keep both kids and adults entertained for hours.
Game Over also offers arcade games which are perfect for team building, corporate events, birthday parties, bucks and hens parties, or just great fun for everyone!
12 Hole Jurassic Themed Mini Putt
Check out your skills with the fantastic, prehistoric themed mini-golf course called Jurassic Putt. Putt your way back into the Jurassic period and see if you can avoid gigantic dinosaurs!
---
Frequently asked questions:
What is the number of games in Game Over?
40
When does my arcade card expire?
It expires after two years of inactivity.
Where is Game Over located in Auckland?
35 Arrenway Drive, Albany, Auckland 0632
---
What are the opening hours at Game Over Auckland?
Monday – Wednesday: 12:00 PM – 6:00 PM
Thursday 12:00 PM – 8:00PM
Friday 12:00 PM – 9:00PM
Saturday 9:00 AM – 9:00 PM
Sunday 9:00 AM – 8:00 PM
---
What clothing do I need to wear?
Shoes with enclosed toes must be worn. Shoes with open toes, sandals, and jandals are not permitted.
How many laps do we do and how long does it last for?
Lap count goes off the lead racer.
Adult races last about 10 minutes and include up to 15 laps.
---