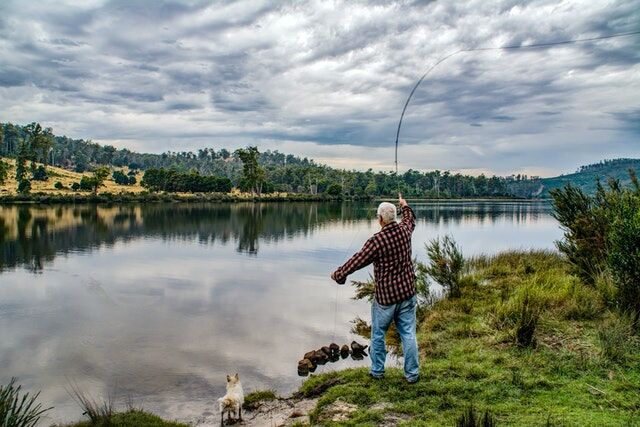 If you are in Auckland or are planning a vacation here, then this is a must-read for you. Fishing is a great way to spend your vacation as it's a sport that brings its reward. After a day filled with memories, you get to eat your kill.
Knowing the best fishing spots in Auckland will help maximize your catch, as nothing is as pleasant as having a good reward for your efforts. Even if you are not a fishing enthusiast but considering fun things to do in Auckland, going on a fishing trip in these spots is an excellent choice to make.
These are our top fishing spots in Auckland:
Auckland Harbour Bridge
📍 Auckland Harbour Bridge, Northcote Point, Auckland 1011, New Zealand
🕤 Mondays – Sundays: Open 24 hours
Features
Bungee jumping
Fishing spot
Sightseeing
Auckland Harbor Bridge is New Zealand's second longest road bridge, with a length of over 1km. A promenade on Curran Street is the perfect site for fishing. Here you can expect to catch snapper or have your squid fishing dreams come true.
Apart from the fishing attraction, there are other fun things to do here. There is an available bungee jumping facility and a boating spot too. The Chelsea sugar refinery and watchman island views from here are added attractions.
Island Bay Wharf
📍 Beach Haven Road, Beach Haven, North Shore, Auckland
🕤 Mondays – Sundays: Open 24 hours
Features
If you want to fish on a budget, then the Island Bay Wharf is a fishing spot you should consider. You don't need a boat to go fishing here, and it's a location with magical scenes that will lift your spirit.
Just as with other fishing spots in this review, there are several things you can catch at this location, especially crayfish and kahawai.
Shelly Beach Wharf
📍 1 Shelly Beach Road, Shelly Beach 0874, New Zealand
🕤 Mondays – Sundays: Open 24 hours
Features
Shelly Beach Wharf is a hot spot to get different marine life. You can catch different types of fish like big snapper, bronze whalers, kahawai, and gurnard.
A piece of advice from regular fishers at this spot is to come in four hours before and after high tide. At this time, your catch size will answer the question, "why is Shelly Beach Wharf one of the best fishing spots in Auckland?".
Cornwallis Wharf
📍 Centennial Park, 122 Cornwallis Road, Cornwallis, Auckland 0604, New Zealand
🌐 https://www.aucklandcouncil.govt.nz/parks-recreation/Pages/park-details.aspx?Location=210
🕤 Mondays – Sundays: Open 24 hours
Features
Cornwallis Wharf in Manukau Harbour is the perfect fishing spot if you would rather fish among many other anglers. You can do both high tide and low incoming tide fishing here. This is one of the fishing spots in Auckland where you can catch kahawai, and with other fishers, there is no limit to having a great time here.
If you are looking for the perfect getaway, you should consider Cornwallis Wharf.
QUICK TIP: You can catch big fish here in the summer months, but it pays to come early.
Okahu Bay Wharf
📍 18 Tamaki Dr, Okahu Street, Orakei, Auckland 1071, New Zealand
🌐 https://www.aucklandcouncil.govt.nz/parks-recreation/Pages/park-details.aspx?Location=2087
🕤 Mondays – Sundays: Open 24 hours
Features
Sited at the waterfront, Okahu Bay is one of Auckland fishing spots for private, family, and corporate events. You can come fishing here alone or in a group but no matter your choice, there is enough to do and see to the marvel of everyone.
The design of the walkway is such that it covers approximately 150m over the ocean. You can catch snapper here amongst other fish species.
Your kids are not left out of the fun as this wharf is close to Kelly Talton's sea life aquarium. However, the wharf is safer for older kids and teens.
Birkenhead Wharf
📍 1 Hinemoa Street, Birkenhead, Auckland 0626, New Zealand
🕤 Mondays – Sundays: Open 24 hours
🌐 https://at.govt.nz/about-us/contact-us/
☎ +6493666400
Features
At Birkenhead wharf, you can get a spectacular view of the city from a perfect angle. Being a friendly spot, you can improve your catch even as a beginner. You may be lucky to catch a big fish in the process.
The wharf is kid-friendly and gives them a place to feel and love nature. You don't need a boat to experience the magic at this wharf, as it's a visit you won't forget in a hurry.
Murray's Bay Wharf
📍 513A Beach Road, Murrays Bay, Auckland 0630, New Zealand
🕤 Mondays – Sundays: Open 24 hours
☎ +6493010101
Features
Murrays Bay Wharf is a top fishing spot on the east coast, and this is no secret, so be prepared for the crowd you may face. It's the perfect spot if you intend to spend time among people or if you're hoping to pick up a trick or two from more experienced hands.
Murray's Bay Wharf is ideal for night fishing if you intend to catch squids. Dusk and dawn fishing are the best times to get snapper. Just as with most fishing spots, the sight here is beautiful and one to behold, especially when the sun isn't high.
Another way to take your mind off reality and bask in the beauty of this place is to go swimming.
Picking The Best Fishing Spots in Auckland
These carefully selected fishing spots are all fun locations with various catches to be made each time. You will surely get the catch you need with the right skill and knowledge on when to cast your hook. These spots are open 24 hours a day, 7 days a week, so you don't need to book ahead or plan for your visit. They are public spaces, and you are always welcome to have fun here.
Besides fishing, the sights are majestic and plated with nature's beauty. These spots are family-friendly and are one of the best places to spend time with the people you love in Auckland. So each visit is a memory that will last you for a lifetime.