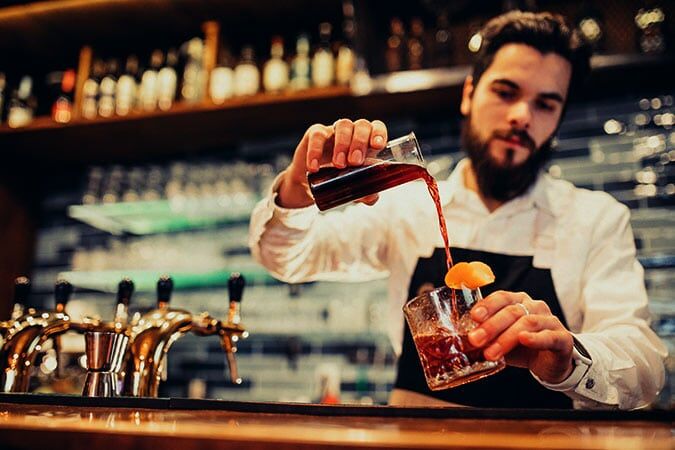 The Auckland bar scene features something for everybody, with a diverse range of bars and venues. Ranging from cocktail experts to proper pub grub style bars. Check out our list of the best bars in Auckland.
1. Housebar
Address: Hotel DeBrett, 2 High Street, Auckland CBD, Auckland 1010
Phone: +64 99259000
Offering a nice quaint and warm atmosphere to have one or several cocktails, a little on the pricey side however it's worth the extra bucks. These cocktails sure do pack a punch, but they are absolutely divine. We recommend heading to Housebar, for catch up drinks with some friends or for a date night.
2. Dr Rudi's Rooftop Brewing Co.
Address: Level 2, 204 Quay Street, Viaduct Harbour, Auckland CBD, Auckland
Phone: +64 92813862
Dr Rudi's has quite the reputation, not to be mistaken for only a bar they offer amazing food, we'd be sure to recommend the Salmon wing tips!
Dr Rudi's boasts a vibrant ambience combined with magnificent views of the water front. It's normally very busy, so it's always best to book in advance especially for a meal. A wide range of options on the menu and they cater for people with allergies. This is a great place to un-wind and watch the sunset.
3. The Attic Bar & Restaurant
Address: 1st Floor, 53-57 Tamaki Drive, Mission Bay, Auckland
Phone: +64 95210000
Head on down to this gastro style pub, ideal for groups or small parties. Classic Kiwi venue, with high quality service and a great view of the bay. We'd recommend the stuffed chicken and tagliatelle pasta which is a real crowd pleaser. The vegetables were cooked to perfection.