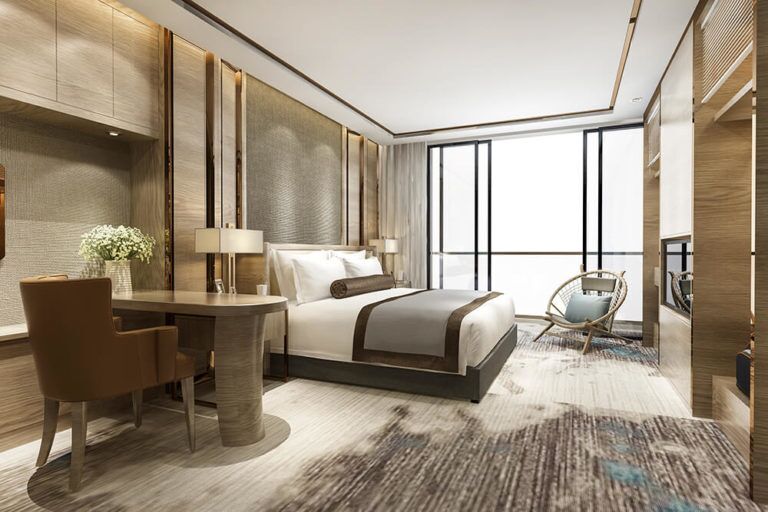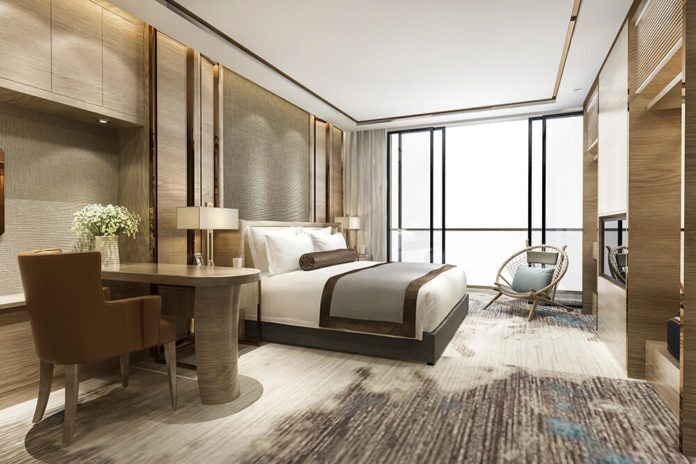 Are you looking for a place in the heart of Auckland where you can really experience the hustle and bustle of city life? Well, look no further than Auckland Central Business District (CBD). This buzzing area is home to some of New Zealand's most iconic landmarks, as well as all kinds of entertainment from restaurants and bars, to shopping centres and cultural hubs. There are so many reasons why staying in this vibrant part of town is one way to immerse yourself wholeheartedly in the energy that makes Auckland such a captivating destination. Read on for an insider's tips on getting the most out of your stay in this exciting hub!
The Auckland central business district (CBD) is the heart of the Auckland metropolitan area. Besides being the center of New Zealand's economy for the last two centuries, it offers an array of different attractions that are worth visiting at least once.
Auckland is a stunning city of lights and beauty that combines breathtaking scenic views with an exciting nightlife. Whether you're visiting the bustling central city to explore iconic landmarks, or taking in incredible views from Mount Eden, there are plenty of reasons why Auckland should be your next destination.
And don't forget – if you find yourself with some spare evenings on this trip, Auckland's CBD has plenty of fantastic hotels for every style and budget!
In this blog post, we'll look at some of the top hotels located in New Zealand's largest metropolis – from high-end luxury experiences to more modest yet still comfortable options. Read on to learn about all that our beloved City Of Sails has to offer for hotel accommodation!
---
M Social Auckland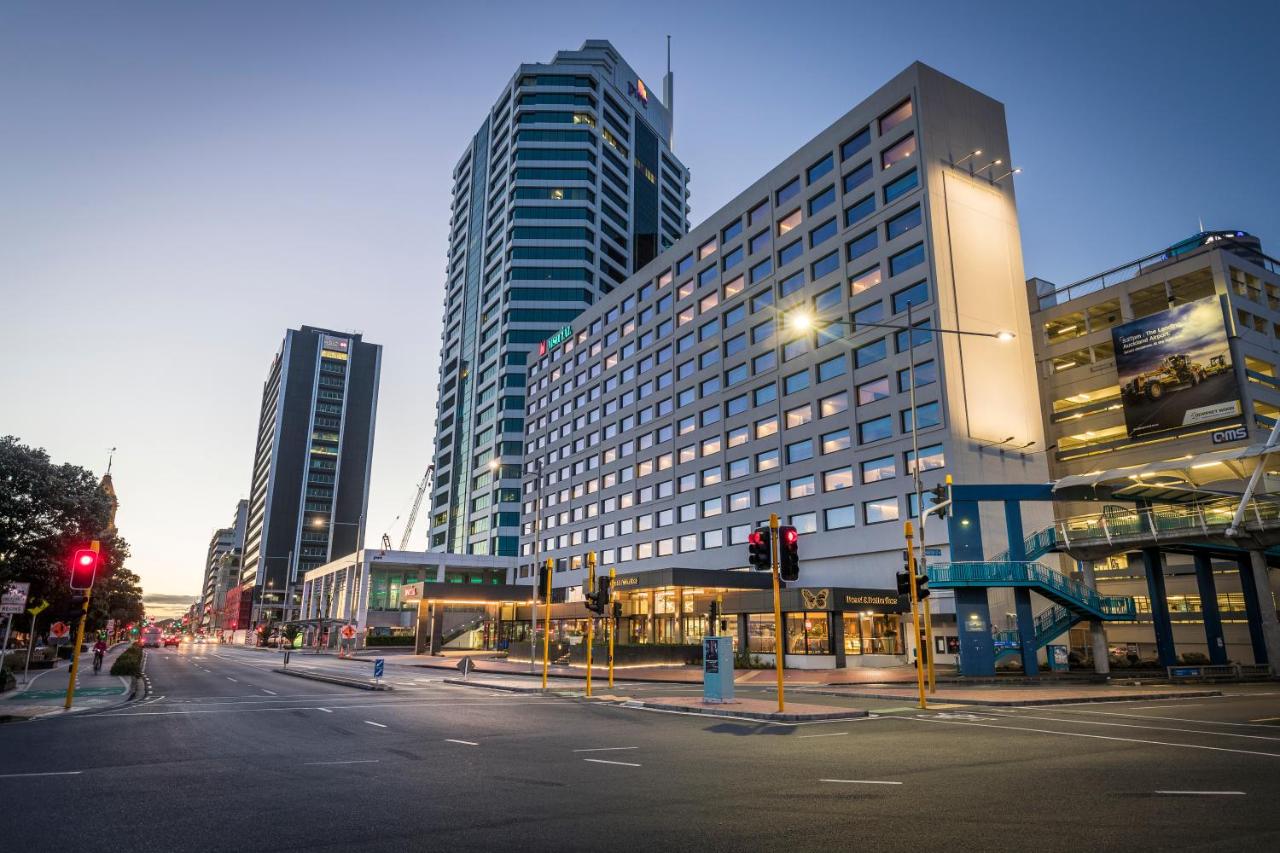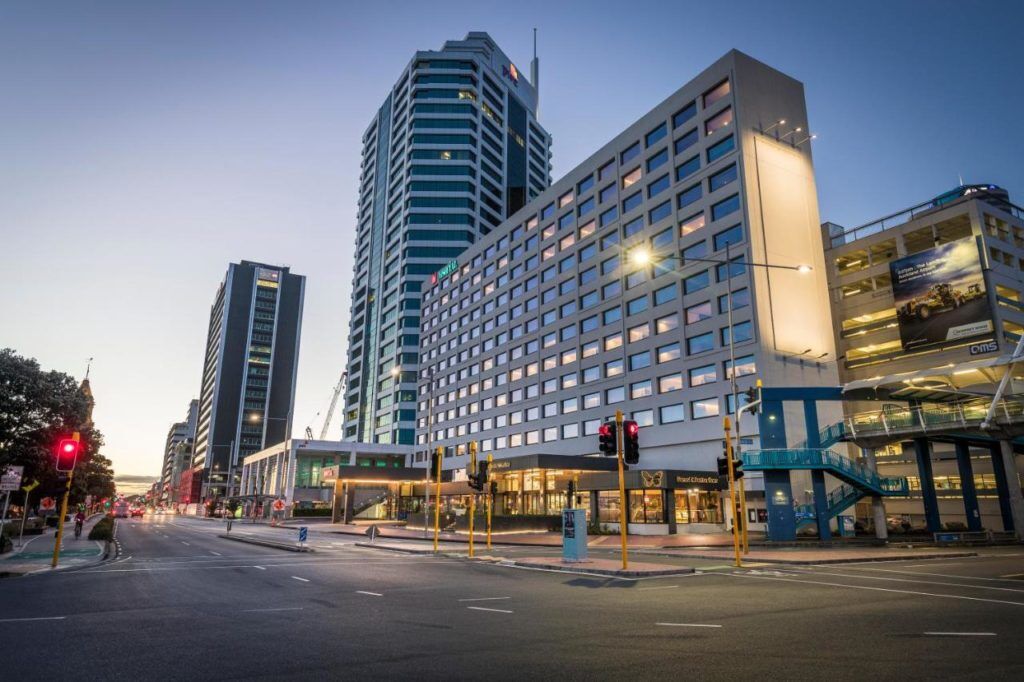 This hotel is located on the famous Quay Street, in the heart of the city. You can enjoy free wifi in all the rooms and it's only 50 m from the New Zealand Maritime Museum and the Ferry Terminal that takes you to Waiheke Island.
Surrounding the M Social Auckland hotel are a variety of restaurants and bars to suit all tastes. All rooms have air conditioning, satellite TV, and a refrigerator.
It also features an excellent restaurant called the Beast and Butterflies where you can try the exotic dishes from the Pacific Rim or simply enjoy a drink with your friends.
The M Social Auckland also has a very helpful staff, a 24-hours gym, free cancellation, and meeting rooms with the best technology available today if you are on a business trip.
According to our guest reviews, this is their favourite location in Auckland Cental buisness district making this one of the most popular facilities available with a great rate per night.
Cordis, Auckland by Langham Hospitality Group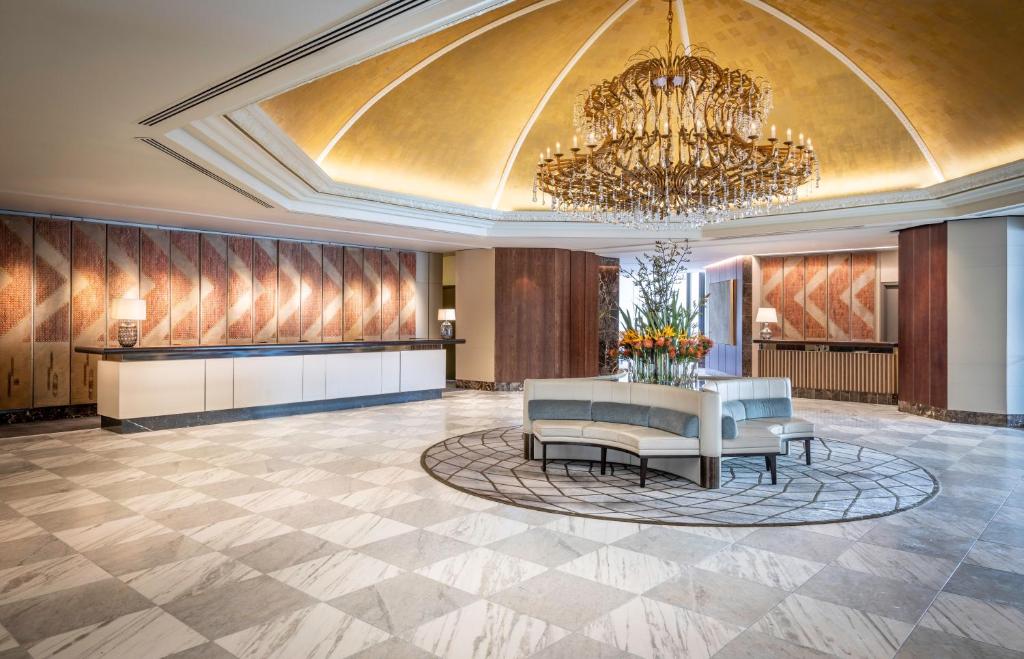 If you want to stay in the heart of Auckland CBD, you can choose to stay in this luxurious urban hotel near Upper Queen Street and in the middle of a lively neighborhood with magnificent views.
After a short walk, this great location allows the guests to explore the city centre and its touristic attractions such as museums, galleries, and shops.
It offers clean rooms with great amenities. The decoration presents a stylish and modern design that not only makes this place comfortable but also conveys a sense of elegance. All rooms have free wifi and other special features.
The guests praise the outdoor fire and courtyard surrounded by nature where the bar called "Our Land is Alive" is located. If you want to try the best selection of New Zealand cuisine and beverages, don't go any further. And if you are in the mood for alternative flavors, the hotel offers a myriad of options for everyone's taste.
Cordis, Auckland CBD by Langham Hospitality Group offers its majestic Great Room to host social gatherings with a capacity of 860 guests. It's also suitable for more intimate meetings and social engagements.
With a good location and excellent rate per night, this hotel offers special features beginning with butler service, late check out, free cancellation, evening drinks, a spa with gym, steam rooms, heated rooftops, and so on.
Fable Auckland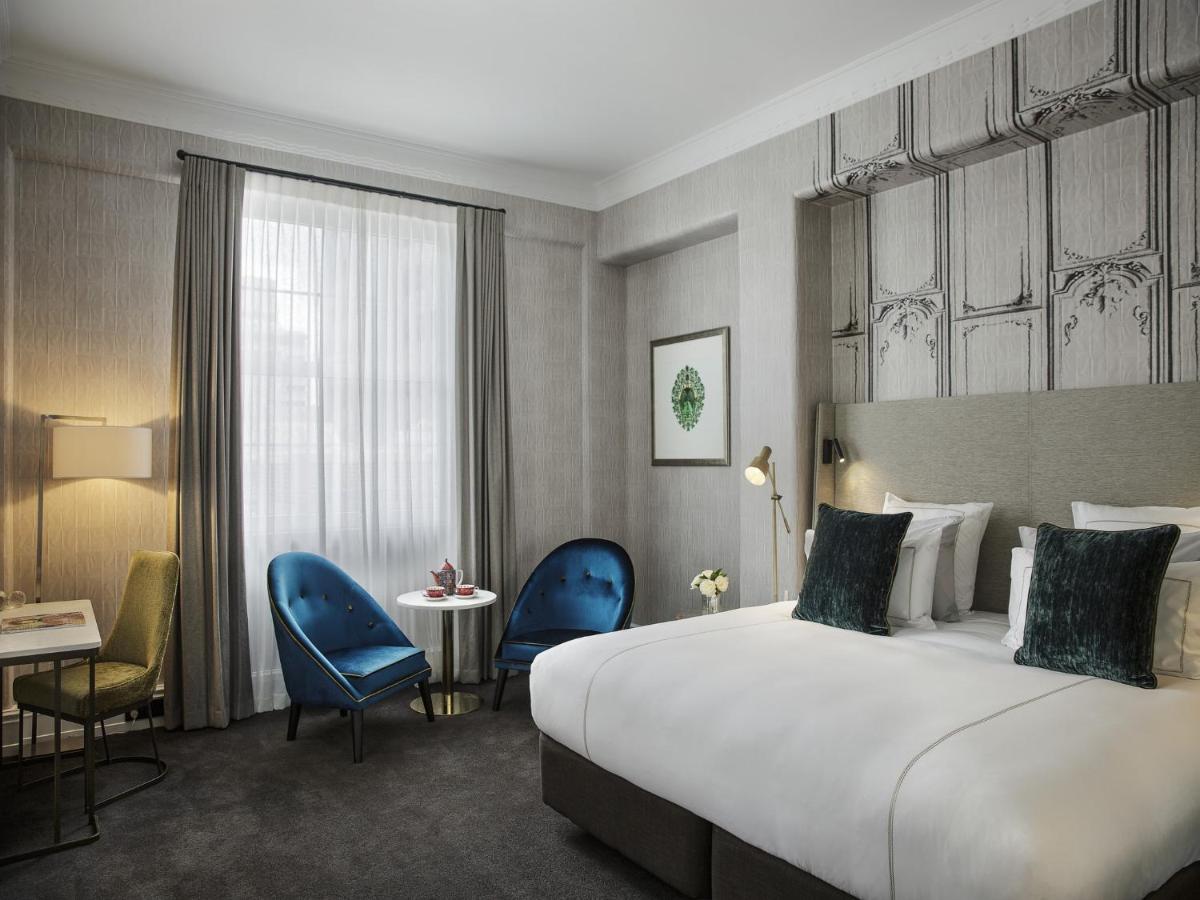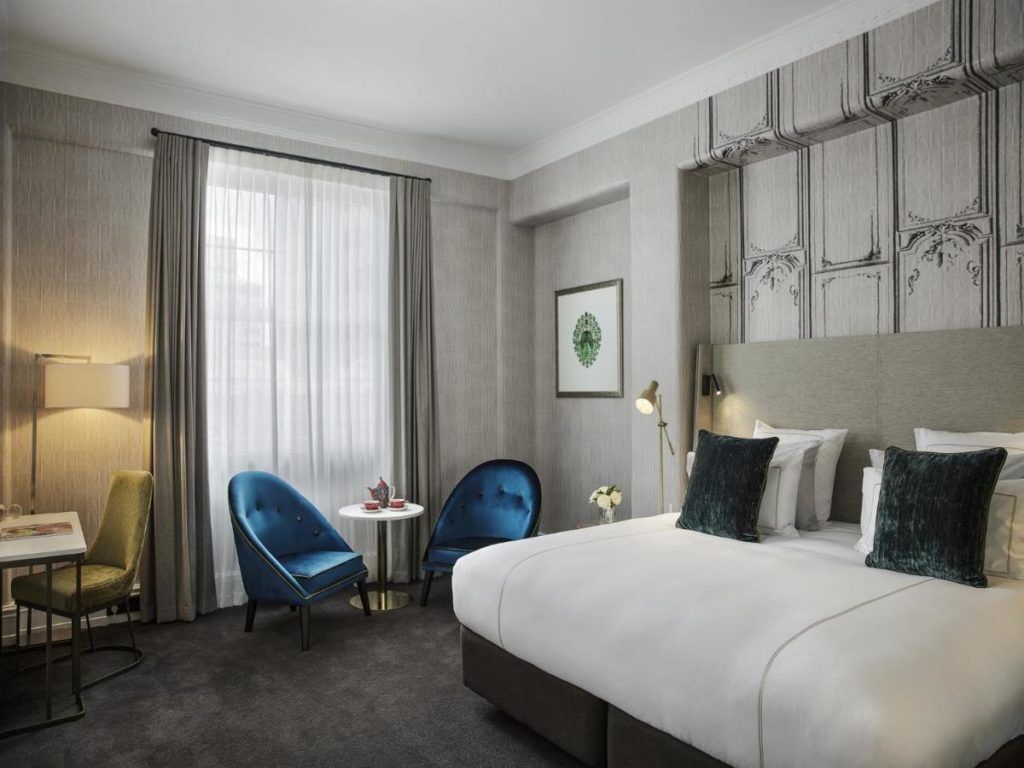 The Fable Auckland is one of the best hotels you can find in the city centre. Its guests love the comfortable location and excellent rates per night, with nearby shops where they can access discounts, galleries, and scenic waterfront.
The Fable Auckland was built in the 1920s and conveys a mixture of modern rooms with an elegant design. This property is located on the lower Queen Street in downtown Auckland CBD near the Viaduct Harbour, the Sky Tower, and SkyCity Casino.
You can enjoy free WIFI and all rooms come with a Smart TV, a fine selection of teas, a Nespresso coffee machine, and free bathroom amenities.
The complimentary breakfast features all kinds of nourishing food and the front desk is open 24 hours at your service, along with the latest prices and availability.
Marsden Viaduct Hotel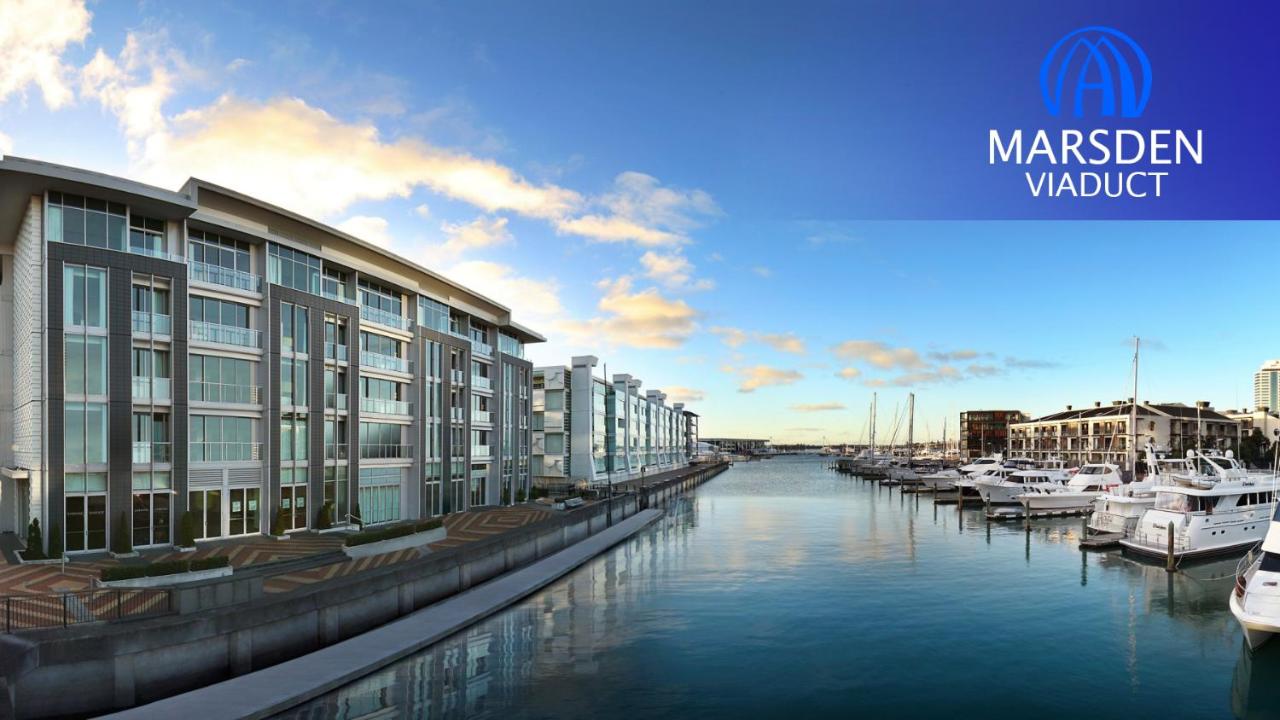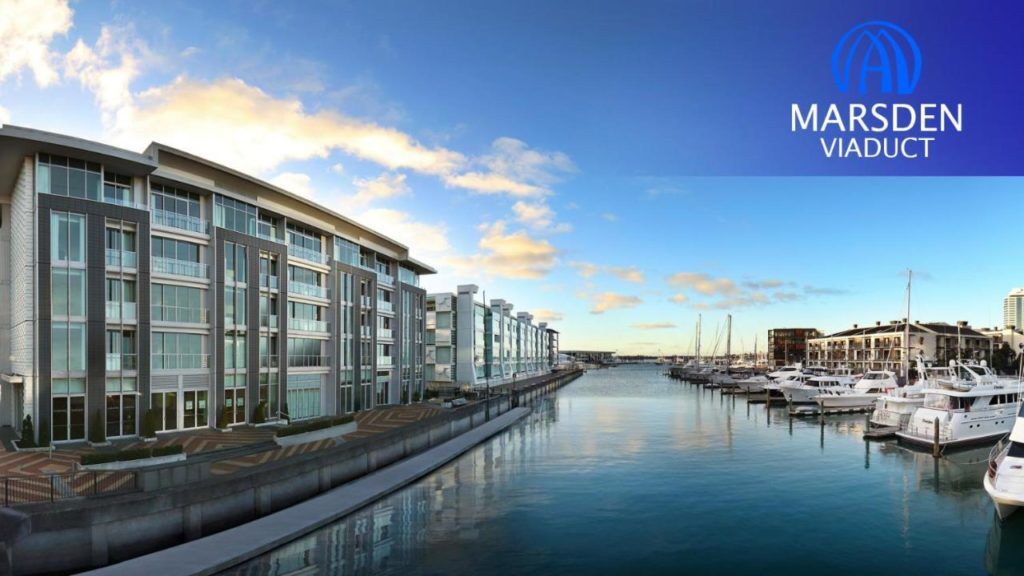 This is one of the best hotels near Masefield Beach with a good value. You can enjoy free WIFI and air conditioner in all their rooms, and express check in and check out in case you need to leave fast tomorrow night.
You can see all available properties, but the Marsden Viaduct is the perfect hotel in Auckland CBD to visit attractions like the Skycity Auckland Convention Centre, the Viaduct Harbour, Hamilton Road Beach, Sentinel Beach, and the Aotea Centre.
Besides the helpful staff and great location, it offers free cancellation, private bathrooms, wardrobes, flat-screen TV in all rooms, and balconies.
The Hotel Britomart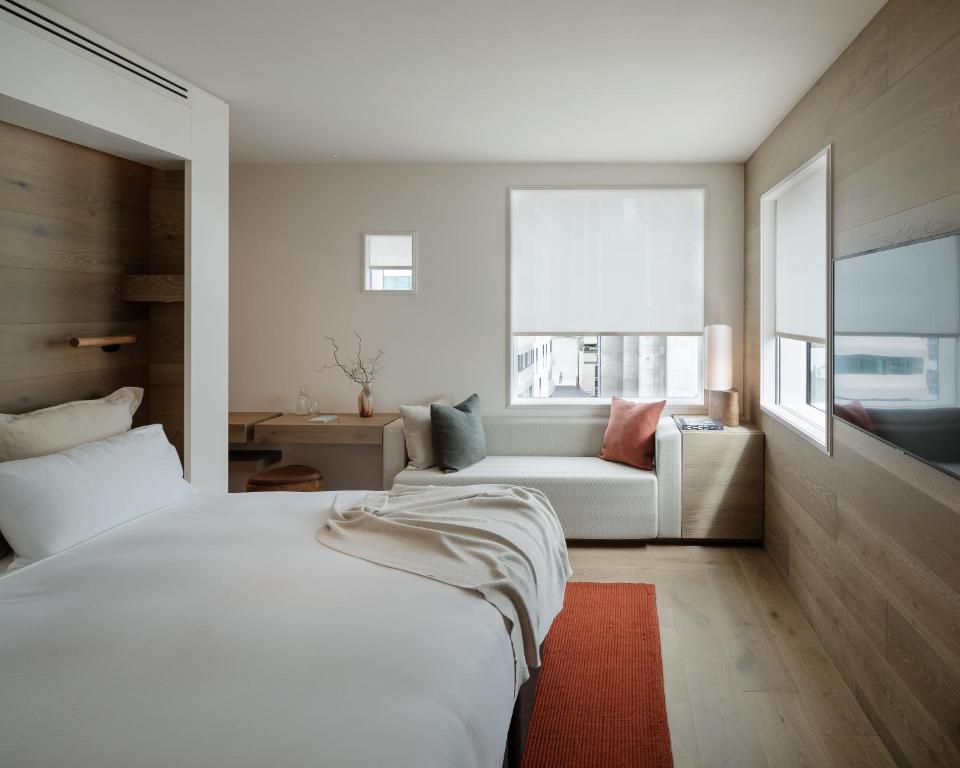 This is one of the best Auckland CBD hotels with a central location a couple of km from Masefield Beach. The Hotel Britomart has a helpful staff that is available 24/7 for whatever you may need.
It has great rates per night and, according to the guest reviews, it has a fantastic fitness center and spacious private parking lot. You can enjoy free WIFI, room service, and a terrace with a sea view if you are lucky enough to find it available.
Your room will have air conditioning, a wardrobe, fridge, kettle, smart TV, minibar, and a safety deposit box.
The guests praise the hotel's breakfast that you can order a la carte or take the continental option. The hotel is near the Sky Tower, the Auckland Art Gallery, and Aotea Centre.
Park Hyatt Auckland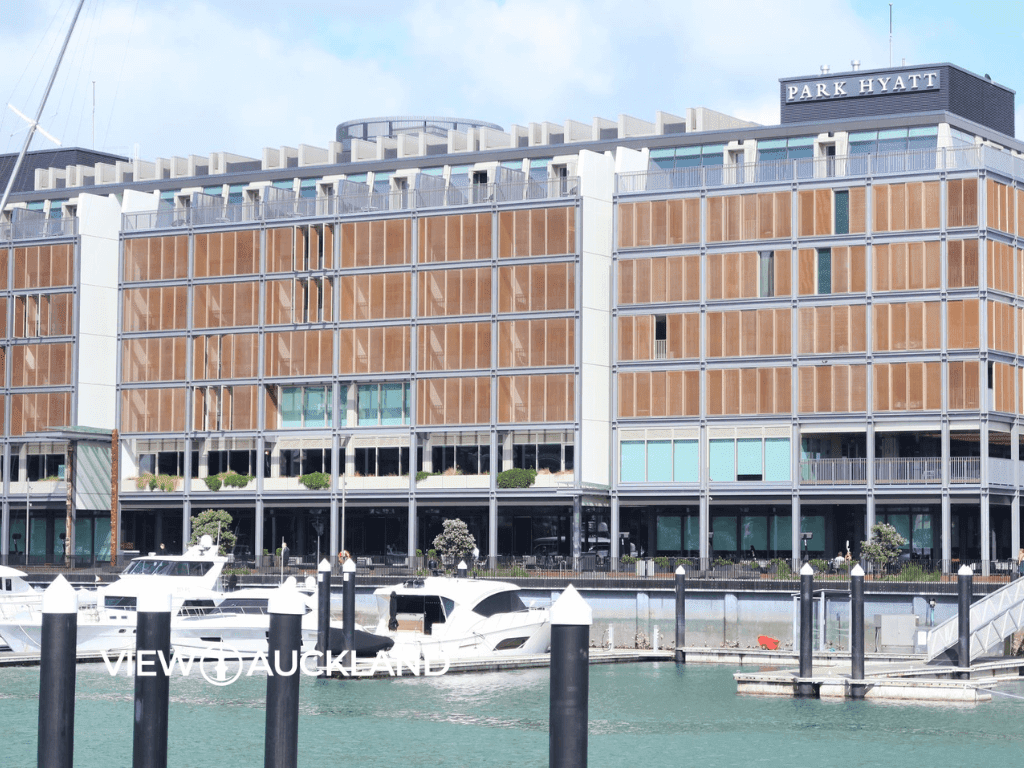 If you are looking for one of the most luxurious hotels in Auckland CBD, the Park Hyatt Auckland will meet your expectations. This 5-stars hotel has a strategic central location and offers an excellent restaurant, gym, and bar.
You can enjoy free WIFI, a beautiful garden, and a breathtaking terrace. The helpful staff is 24 hours available at your service, and you can also exchange currency at the front desk.
The rooms have air conditioning, a strong desk, a fridge, a minibar, a smart TV, a kettle, and a private bathroom. Certain rooms feature a patio and coffee machine too.
You can also use the sauna and hot tub, and enjoy the continental breakfast offered at the restaurant. The quality and popularity of this hotel is determined by the number of guest reviews compared to other hotels.
Near the Park Hyatt Auckland Hotel, you can find Hamilton Road and Masefield Beach, the Sky Tower, and Auckland Domain.
SO/ Auckland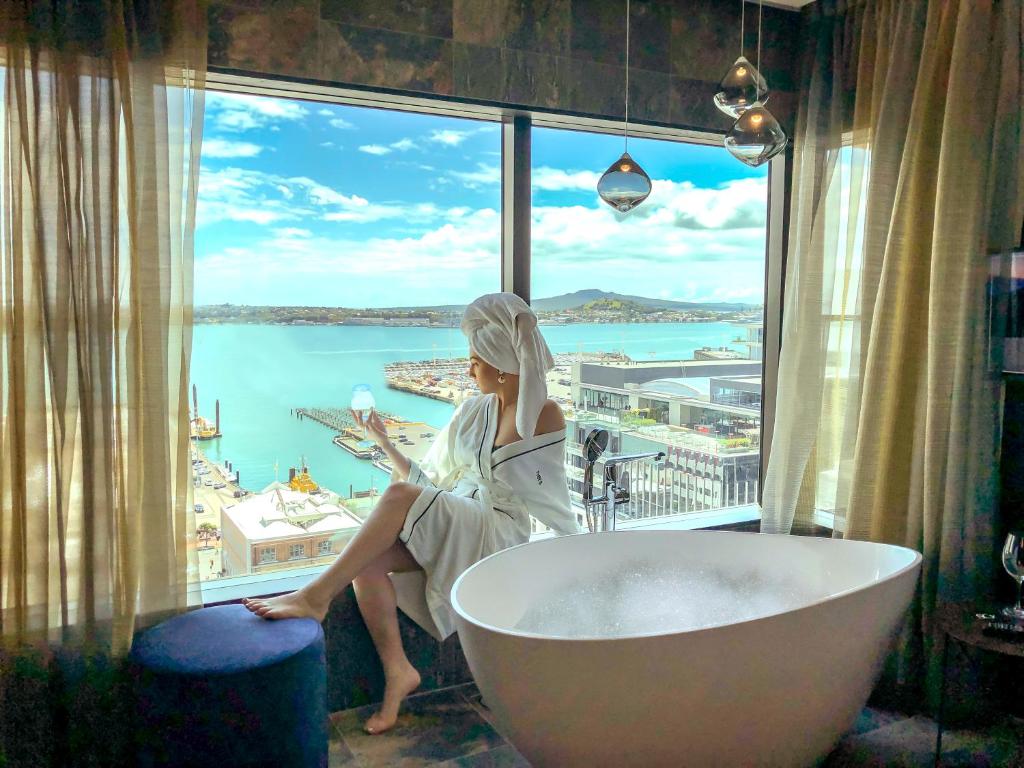 This luxurious urban hotel is located in the heart of Auckland CBD within a few meters of Sky Tower and the Ferry Terminal. This gorgeous hotel with amazing ocean views is located on the waterfront with access to a modern rooftop bar and a top-rated restaurant.
And if that didn't catch your attention, this hotel has also an indoor heated pool and fitness center that all guests can use, and a 24-hour service of helpful staff that is more than glad to assist you in whatever you need.
All rooms have a Nespresso coffee machine, smart TV, and minibar. You can also enjoy free WIFI and a private bathroom with a comfortable bath.
If you are on a business trip, the SO/Auckland has comfortable meeting rooms that you can book in advance.
Next up: Finest Luxury Hotels in Auckland
Sofitel Auckland Viaduct Harbour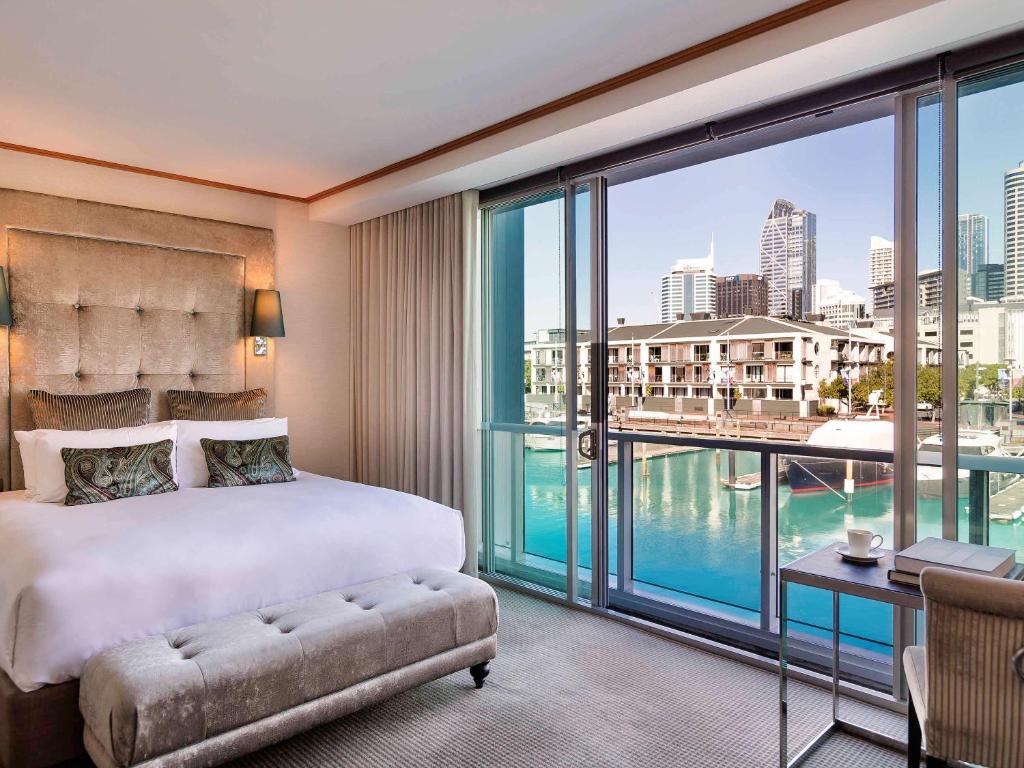 This highly rated hotel is located at the Viaduct Basin Entertainment Area where you can find the best bars and restaurants in Auckland CBD. If you book this hotel, you'll enjoy beautiful views of the Viaduct Harbour Basin and a wide range of activities to choose from.
You can select hotels with nice restaurants, helpful staff, or comfortable rooms, but the Sofitel Auckland Viaduct Harbour has all of these options and more. The guests praise the cuisine offered at the La Maree Restaurant and the stylish decoration of the Sabrage Champagne Bar.
The luxurious bedrooms have amazing huge windows and giant bathrooms with rain showers and deep bathtubs for the comfort of their guests.
In addition, their specialized staff offers spa treatments to pamper your body and mind, adjusting their techniques and products depending on your requirements.
Next up: Best Hotels in Auckland
Hotel DeBrett
This trendy boutique hotel is located in the Auckland central business district and is within a short walk distance from the Sky Tower and the famous Viaduct Harbour.
If you book a room in this fantastic hotel, you'll enjoy free WIFI and a fitness center with great reviews. All rooms have a Smart TV and air conditioning. They are all uniquely designed with the best artwork in the country.
You can also enjoy craft beers, local wines, and delicious cocktails at the well-known bar of the hotel.
Airedale Boutique Suites
You can find this hotel just a few meters away from the Sky Tower on Queen Stree, offering a comfortable location in Auckland Central Business District.
All guests can enjoy free WIFI and a great rate per night. The Airedale Boutique Suites is known for its original Art Deco features and helpful staff.
Hilton Auckland
This fantastic hotel offers modern and greatly designed rooms with a great view. Its located at the center of the Auckland Central Business District, at the end of Princess Wharf. If you are looking to treat your senses, you can try a luxury dining with local ingredients option at "FISH" restaurant.
All guests can enjoy the swimming pool and fitness center. If you're looking to try some delicious cocktails, you don't have to go far. The Bellini Bar has such a varied menu of all kinds of drinks that will leave you satisfied.
You can also book one of its event spaces with a capacity of 700 guests to celebrate a social gathering or business meeting.
The Hilton Hotel Auckland is a short walk from Auckland city centre, the Viaduct and Britomart precincts, and the new Viaduct Events Centre, which is why most of the guests choose it as their preferred option.
You can enjoy free WIFI in all rooms and get inspired by its modern decor and private balcony.
Read next: w
SkyCity Hotel Auckland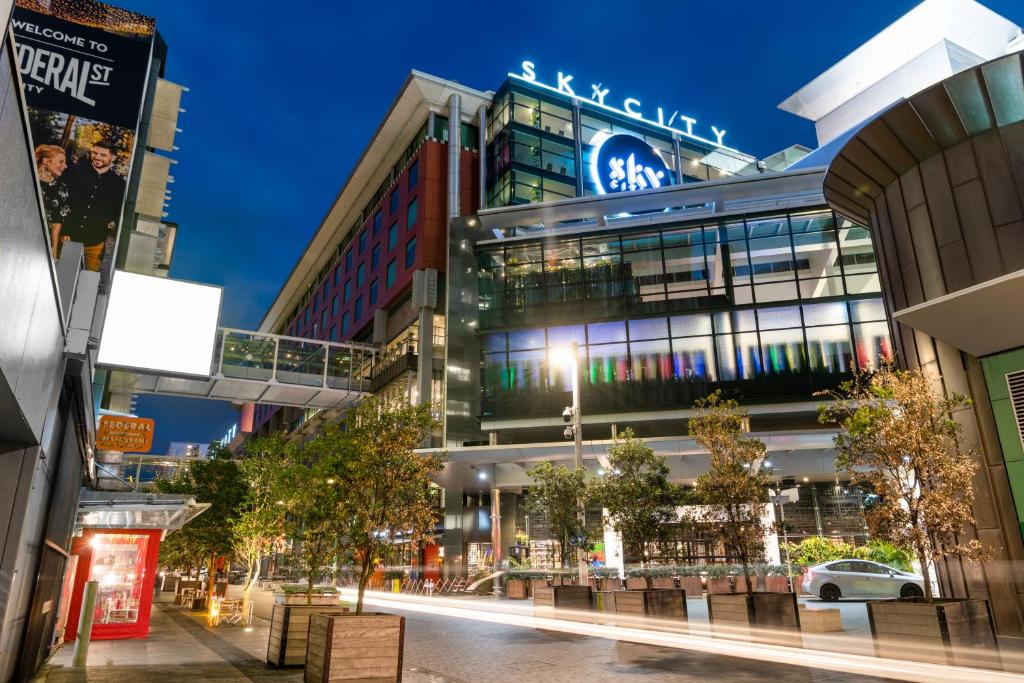 Located in the heart of Auckland CBD, next to the iconic Sky Tower and SkyCity Casino, SkyCity Hotel Auckland offers beautifully appointed rooms and suites with free WiFi, a 37-inch flat-screen TV, and an iPod docking station.
The 24-hour SkyCity Casino features live entertainment, a theatre, and a choice of more than 20 restaurants, cafes and bars. The Sky Tower, rising 328 m above sea-level, offers breathtaking 360 degree views from 3 observation levels. Union Pay is accepted here.
Each air-conditioned room includes a private bathroom, minibar, satellite TV, including CCTV channels, and 24-hour room service. All rooms have a view of the courtyard or city skyline. Complimentary slippers and bathrobes are available upon request. Dental kits can be provided for an additional charge.
QT Auckland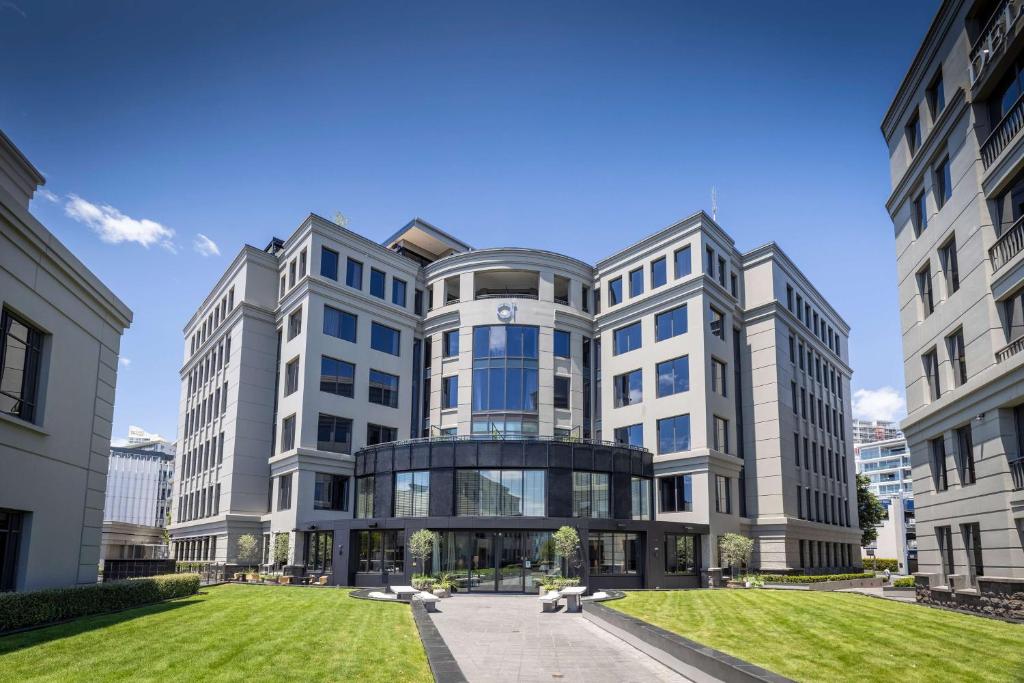 Set in Auckland in the heart of the Viaduct Harbour, QT Auckland offers accommodation with a restaurant, valet parking, a fitness centre, and a bar. With free WiFi, this 5-star hotel offers a 24-hour front desk and room service. The accommodation provides a concierge service and luggage storage space for guests.
All guest rooms come with air conditioning, a Chromecast, a Nespresso machine, wireless Bose speakers, and a Dyson Supersonic hairdryer. At the hotel all rooms include a private bathroom with free toiletries.
A la carte breakfast options are available every morning at Esther, the Hotel's in-house restaurant.
Popular points of interest near QT Auckland include Sky Tower, Viaduct Harbour, and SKYCITY Auckland Convention Centre. The nearest airport is Auckland Airport, 18 km from the hotel.
The Grand by SkyCity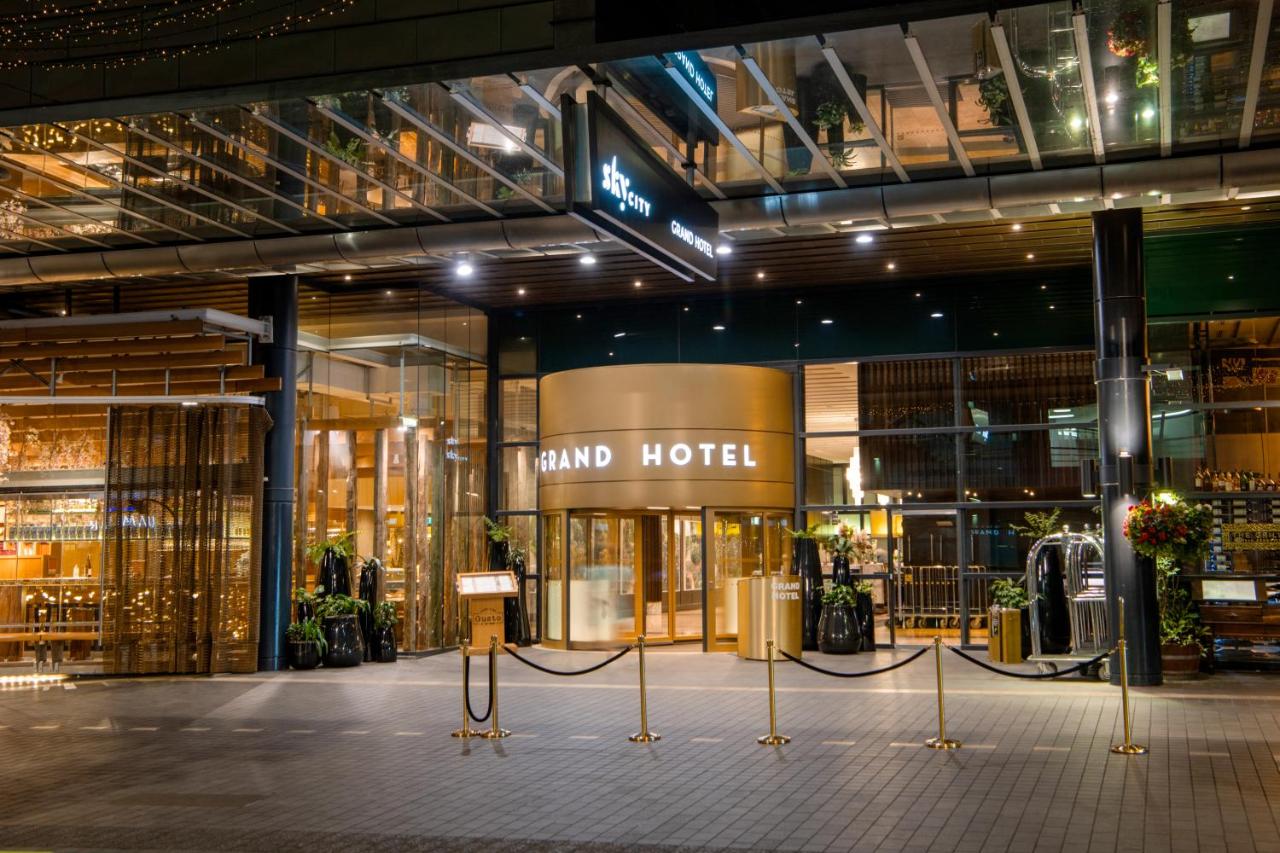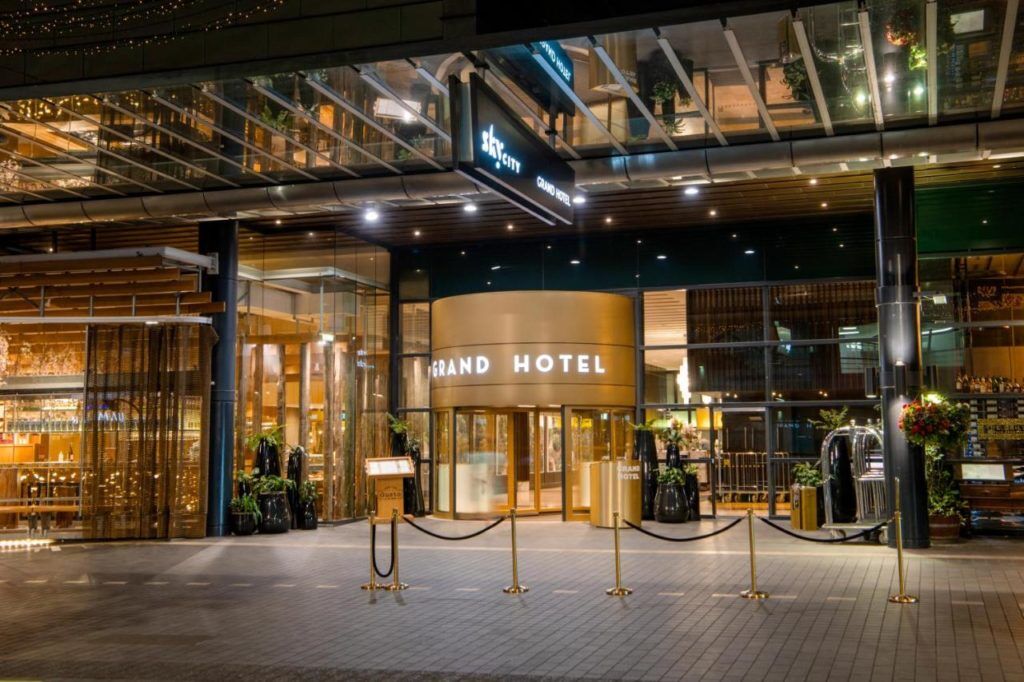 The Grand by SkyCity offers contemporary 5-star rooms and suites with views of Auckland Harbour and the city skyline. Guests enjoy award-winning restaurants, a bar, a fitness centre, and a luxurious day spa, as well as free WiFi in the rooms.
The SkyCity entertainment complex, featuring a 24-hour casino, Auckland's iconic Sky Tower, plus more than 20 restaurants, cafes and bars, is right on the doorstep of the hotel.
The fully equipped fitness centre offers a 25 m heated lap pool, a sauna, and a spa pool. East Day Spa offers a full range of facial and body treatments. Valet parking is available at an extra cost.
Each room at The Grand by SkyCity includes a modern bathroom with bathrobes, slippers, and a shower. There is a flat-screen TV with in-house movies in every room.
Some Chinese speaking staff are available. Chinese breakfast options can be arranged in advance, and green tea is available in the room. Chinese TV channels are on offer for an additional charge, and Union Pay is accepted at this property.
If you're ever in Auckland, New Zealand be sure to stay at one of these hotels in the central business district! The view from your room will be amazing and you'll be close to all the best restaurants and shops. With so many options to choose from, you can't go wrong with any of these hotels.